Raise your voices engineers: Fall 2020 Commencement is Dec. 18
Colorado School of Mines to celebrate mid-year graduates in a pair of virtual ceremonies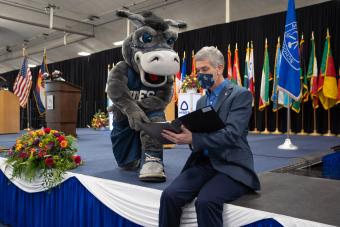 Colorado School of Mines will celebrate its Fall 2020 Commencement in two virtual ceremonies on Friday, Dec. 18.
Undergraduate Commencement will start at 9 a.m. MT, with a live broadcast featuring cherished Mines traditions as well as new features aimed at bringing Orediggers together during a time when the community cannot celebrate together in-person.  Graduate Commencement will follow with a live ceremony broadcast at 12 p.m. MT.
Gracie Cole, B.S. in mechanical engineering, will give the student address during the undergraduate ceremony.
Student speakers at the graduate ceremony will be:
And while the current COVID-19 pandemic did not allow for an in-person ceremony this semester, Fall 2020 graduates will be able to walk across the graduation stage — albeit before Friday's ceremonies.
All graduates were offered an opportunity this week to cross the stage and take photos with a small number of family members present. The walks are being spread out over three days to allow for appropriate social distancing and compliance with public health guidelines.
Clips of the graduates will be streamed as part of the virtual ceremony Dec. 18. Any graduates who were unable to walk in-person will have their names displayed during the virtual ceremony.
For more information about Friday's ceremonies, including the links to join, go to commencement.mines.edu.