PhD student wins 2019 Intelligent Water Systems Challenge
Kate Newhart's winning presentation focused on a collaborative wastewater project for the Water Resource Recovery Facility in Boulder, Colorado.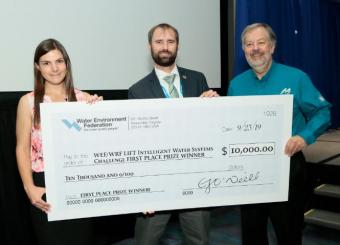 Kate Newhart, a PhD student in environmental engineering at Colorado School of Mines, won first place in the 2019 Intelligent Water Systems Challenge.
Newhart's winning presentation, "A Utility Perspective: Practical Considerations of Operating and Advancing Ammonia-Based Aeration Control," focused on a collaborative wastewater research project that included Mines, the Boulder (Colorado) Water Resource Recovery Facility, Baylor University and consultants Carollo Engineers.
The goal of the project was to develop and integrate a data-driven predictive tool to forecast ammonia concentration halfway through an activated sludge bioreactor in a water reclamation facility in Boulder that processes 25 million gallons of wastewater per day.
With the tool, the team was able to very accurately forecast the concentration 50 minutes ahead of the measuring point in the bioreactor, increasing process stability by at least 12 percent, reducing energy consumption, and reducing wear on critical equipment in the facility. Managers and operators at the Boulder Water Resource Recovery Facility have already agreed to integrate the tool into the control system of the facility.
The competition, hosted by the Leaders Innovation Forum for Technology (LIFT), a joint effort of the Water Environment Federation and the Water Research Foundation, took place during the WEFTEC Conference in Chicago on September 23.
Newhart is advised by Tzahi Cath, professor of civil and environmental engineering.