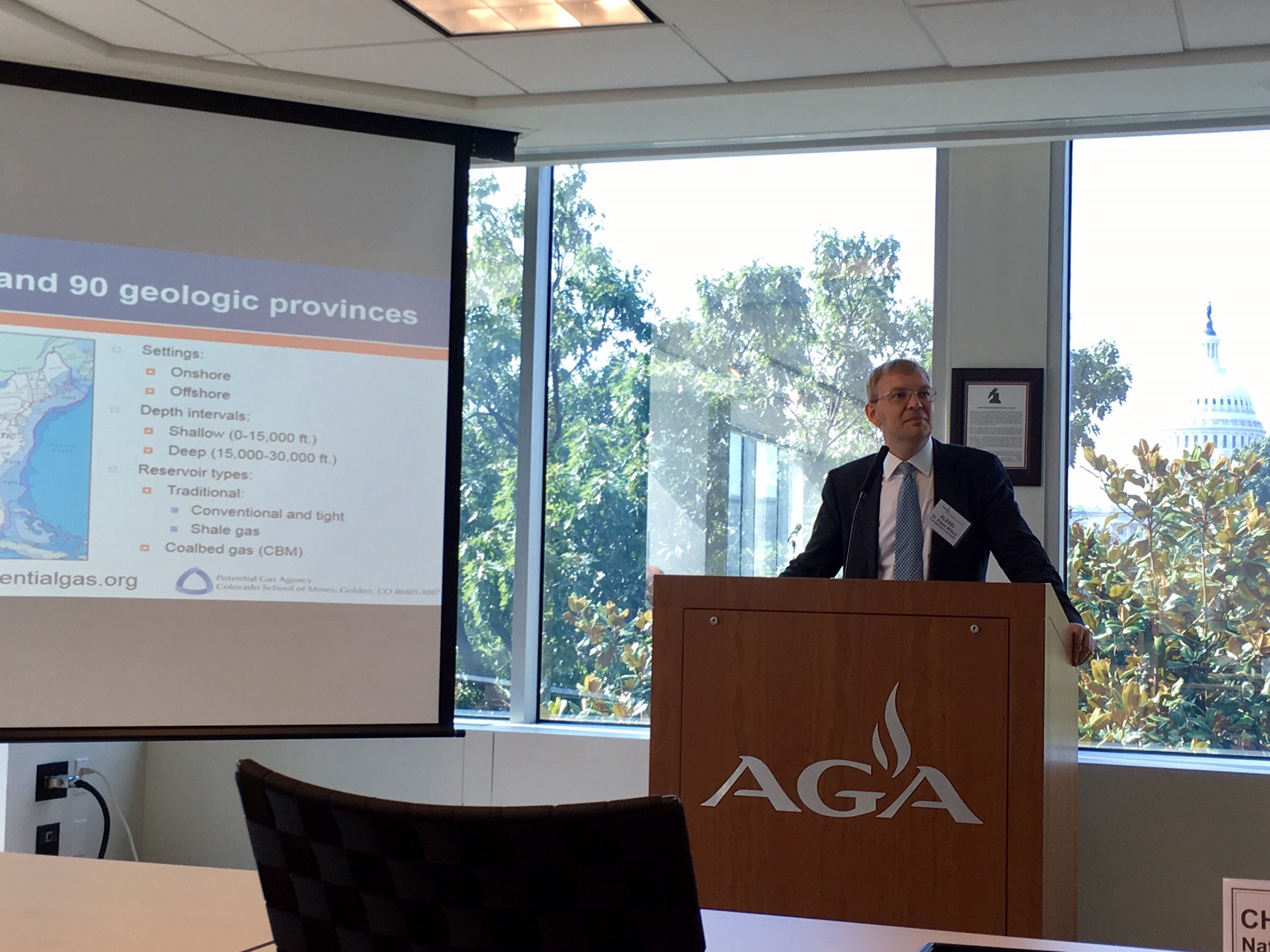 The Potential Gas Committee, which receives guidance and technical support from the Potential Gas Agency at Colorado School of Mines, reported a sizable increase in U.S. natural gas resources in its latest biennial assessment. 
 
The U.S. possessed a total technically recoverable resource base of 2,817 trillion cubic feet (Tcf) as of the end of 2016, the highest level in the committee's 52-year history and up 12 percent over the previous high in 2014. The committee released its report July 19. 
 
"The latest assessment by PGC confirms that the U.S. has abundant resources of natural gas. These resources are present in various reservoirs both onshore and offshore," said Alexei V. Milkov, professor of geology and geological engineering and director of the Potential Gas Agency. 
 
The assessment measures technically recoverable natural gas resources, a mix of both discovered and undiscovered reservoirs that range in certainty from probable field extensions to speculative new basins. The analysis does not consider pricing or regulatory factors.  
 
The increase since 2014 is a result of growth in shale gas resources, up 29 percent or 399 Tcf. Shale gas now represents 64 percent of the country's potential gas resources. 
 
"Ultimately there is only so much gas—it's a finite number—but we keep finding it," Milkov said. "We better understand what we actually can recover as our technology progresses and our geological knowledge improves."
 
Nearly 40 percent of all traditional U.S. gas resources, or 1,047.5 Tcf,  are in the Atlantic area, while the Rocky Mountain region accounts for 16.5 percent, or 437.1 Tcf. Traditional resources includes conventional, tight and shale reservoirs but excludes coalbed resources. 
 
The total U.S. future gas supply, a calculation that combines the PGC resource assessment with proven reserves reported by the U.S. Energy Information Administration, stands at a record 3,141 Tcf, an increase of 10 percent over the year-end 2014 assessment.
The Potential Gas Committee, a nonprofit organization of 80 volunteer geoscientists and engineers, receives guidance, technical assistance, training, administrative support and assistance in member recruitment and outreach from Colorado School of Mines' Potential Gas Agency. The PGA is supported by prominent E&P companies, gas pipeline companies and distributors, trade associations and individuals.
For more information on the latest PGC assessment, Potential Supply of Natural Gas in the United States (December 31, 2016), go to potentialgas.org/press-release.
Photo courtesy of American Gas Association.
CONTACT
Emilie Rusch, Public Information Specialist, Communications and Marketing | 303-273-3361 | erusch@mines.edu
Mark Ramirez, Managing Editor, Communications and Marketing | 303-273-3088 | ramirez@mines.edu