Colorado School of Mines' four newest University Innovation Fellows hope to grow the culture of innovation and entrepreneurship on campus through new classes, workshops and events such as hackathons, links to other institutions and improved communication.
Curtis Harrison, Torin Johnson, Adam Marcinkowski and Michael Thuis were among the 258 students from 64 institutions who completed their online training at the end of February.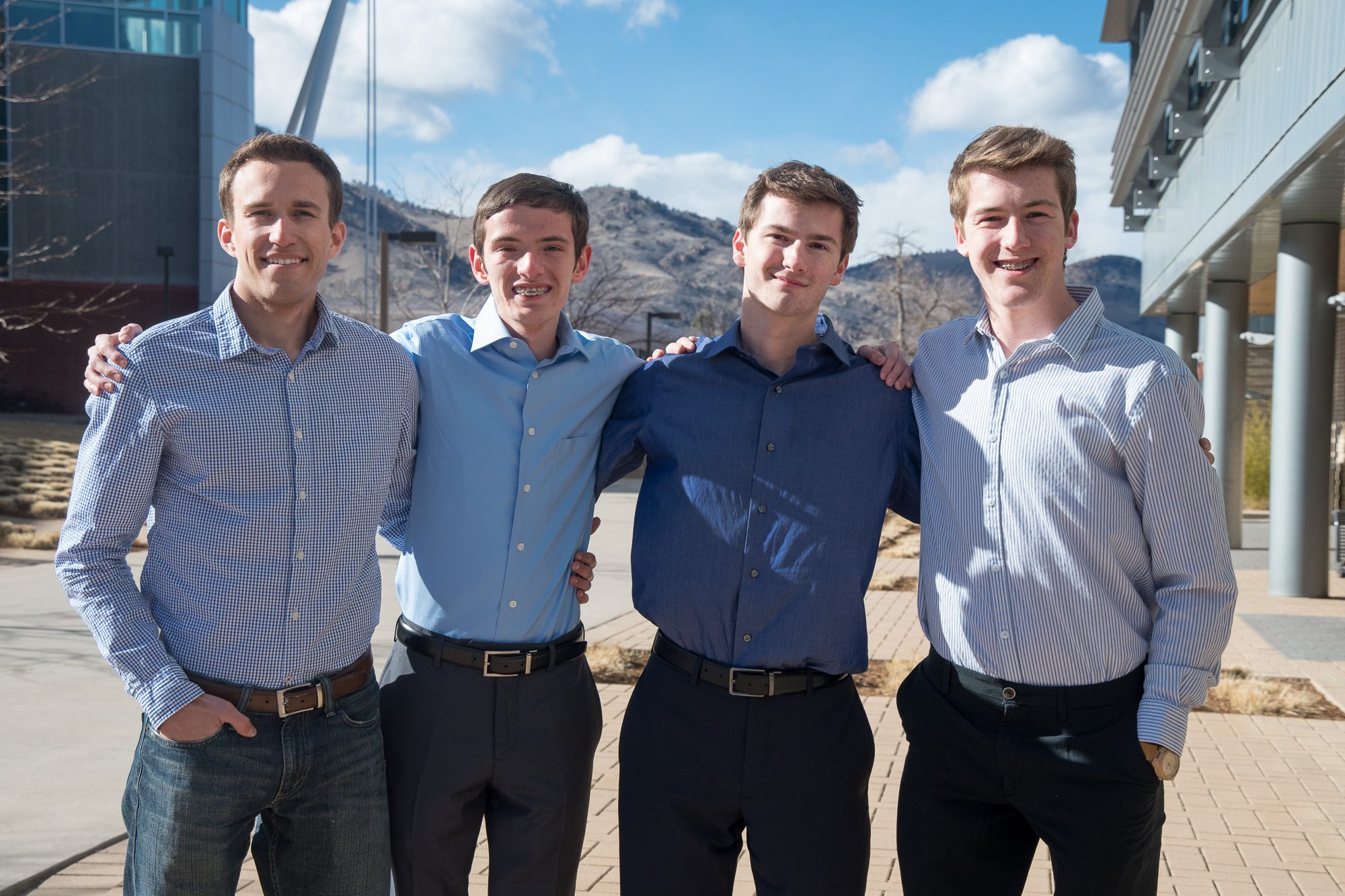 The UIF program, run by Stanford University's Hasso Plattner Institute of Design, aims to empower students to become agents of change at their schools.
"I hope to expand the entrepreneurship and innovation culture here at Mines, as well as provide more ways for students to develop their leadership skills while pursuing technical degrees," said Harrison, an engineering physics major. "The training was powerful and prepared me to make positive change on campus."
Marcinkowski, a mechanical engineering major, said seeing what previous Fellows have accomplished prompted him to apply for the UIF program. "They're take-charge, pragmatic change agents who can drive initiatives and close a deal," he said. "As a die-hard believer in the power of entrepreneurial thinking, the UIF program is everything I'm about."
Johnson, a computer science major, said he wants to reinvent Mines' Entrepreneurship Club. "This club will be centered on creating a community and space which cultivates an entrepreneurial mindset through the types of activities, events, community involvement and networking connections the students receive," he said.
The UIF training helped Johnson realize how much change he can make on campus. "It's prepared me to look into the future of our school and where we want to see it in a few years, as well as how to get it there," he said.
Hearing from University Innovation Fellow Asya Sergoyan, who is also his resident assistant, was the biggest factor in Thuis' decision to apply. "Talking to her gave me that 'aha moment' that made me realize that this program would be great for me and allow me to make a positive impact on my campus and the local community," said the chemical engineering major.
Thuis' goal is to centralize and improve Mines' systems for disseminating information about innovation events. "Through this improved system, I hope to incorporate alumni and research connections for students to reach out to those in the Mines community willing to help develop projects and ideas or simply give some advice," he said.
Thuis also hopes to organize hackathons and design competitions that allow students to practice their skills. "Overall, I hope to enable students to make the most of their Mines experience while growing a larger innovative and entrepreneurship mindset on campus."
As these newest University Innovation Fellows start their journeys, previous cohorts are giving back to the program.
Sergoyan, a chemical engineering major, and computer science major Emma May served as student event leaders for the program's Silicon Valley Meetup, which took place March 15-19. Sergoyan took on the same role at the program's November 2017 event.
The two, along with 22 others, were hand-selected out of an international community of 1,500 Fellows for the impact they have had at their schools and for their contributions to the movement. At the event, they will represent their schools in front of 300 student and faculty attendees from 70 higher education institutions around the world. They will give presentations on their UIF work to all attendees, modeling for the new Fellows the kind of impact they can have on their own campuses. Additionally, their demonstrated organization and leadership skills will be put to work as they lead and mentor teams of Fellows from different areas of the world.
Contact: