High school chemistry students from Brighton, Colorado, made their own nanoparticles and learned about sampling water from Clear Creek as part of the 11th International Conference on the Environmental Effects of Nanoparticles and Nanomaterials, held at Mines Aug. 14 to 18.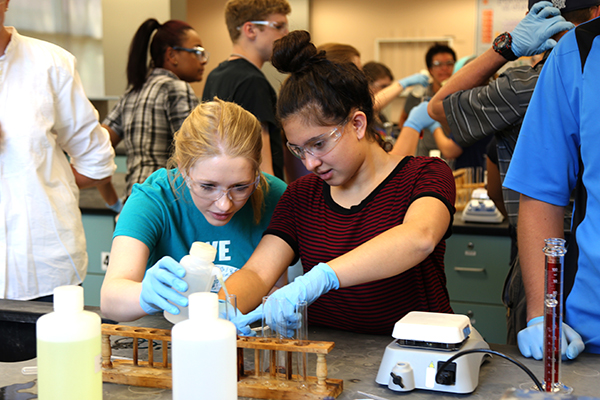 The 15 juniors and seniors synthesized and analyzed gold nanoparticles in the lab with instruction from Manuel Montaño, a postdoctoral researcher at Duke University who attended Brighton High School and earned his BS and PhD in chemistry from Mines.

Montaño was a PhD student under Chemistry Professor James Ranville, who oversaw ICEENN 2016 and organized this outreach component of the conference. The high school students, with Brighton High School chemistry teacher Meghan Frenzel, also visited research laboratories, the Geology Museum, and the Electron Microscopy Lab on campus.
"We hope to not only educate high school students about nanotechnology, but also perhaps inspire some of these STEM students in pursuing nanotechnology as a career," Ranville said.
The rapid growth in the field will generate considerable benefits, Ranville said. "But we need to take the opportunity early in the development of nanotechnology to carefully assess the potential risks to human and environmental health," he added.

ICEENN, first held in London in 2006, is one of the leading international conferences on environmental nanoscience, and is the only conference that focuses entirely on this aspect of nanotechnology. Experts in chemistry, biology, engineering and risk assessment come together with regulators and industry to discuss the latest advances in understanding the nature of nanomaterials and the key issues relating to maintaining the economic and social benefits of nanotechnology.
"We also hope to inform the general public to help them make informed decisions about the acceptance of these new materials," Ranville said.

In addition to presentations, the conference included poster sessions, company demonstrations, hiking and rafting outings, and a two-day preconference hands-on workshop focused on the characterization of nanoparticles using single-particle inductively coupled plasma mass spectrometry and asymmetrical flow and centrifugal field flow fractionation.
Contact:
Mark Ramirez, Communications Manager, College of Applied Science & Engineering | 303-384-2622 | ramirez@mines.edu
Deirdre Keating, Communications Manager, College of Engineering & Computational Sciences | 303-384-2358 | dkeating@mines.edu