Monique Sendze named finalist for Colorado Public Sector CIO of the Year
The Colorado CIO of the Year ORBIE Awards recognize Colorado executives driving innovation and harnessing technology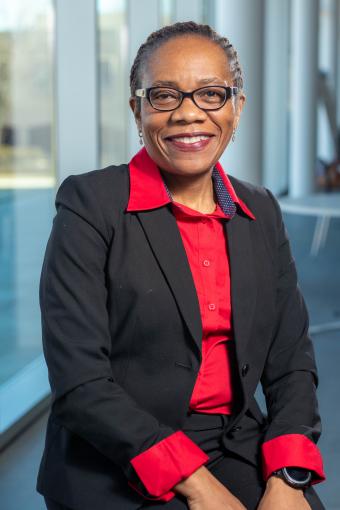 Monique Sendze, chief information officer of Colorado School of Mines, is among the nominees for the 2021 Colorado CIO of the Year ORBIE Awards.
Sendze is one of five finalists for Colorado CIO of the Year in the Nonprofit/Public Sector award category. Fellow nominees in the category hail from Arapahoe County, Boulder Community Health, Craig Hospital and the City of Fort Collins.
Sponsored by the Colorado CIO Leadership Association, the ORBIE Awards recognize Colorado executives driving innovation and harnessing technology for their companies across the nation. Winners will be revealed at a virtual event on March 26.
Sendze, who has more than 20 years of technology leadership experience in the public sector, has served as Mines' Chief Information Officer since February 2020. She joined the university in February 2019 as Deputy CIO and served as Interim CIO starting in October 2019.
Before coming to Mines, Sendze held the positions of Director of Information Technology at both the Johnson County (Kansas) and Douglas County (Colorado) libraries, Chief Operating Officer and Chief Technology and Innovation Officer at the Tulsa (Oklahoma) City-County Library, and Director of Technology Strategy at The Library Corporation, a systems automation software development company.
With a doctoral degree in organizational leadership, Sendze has a passion for designing information technology organizations that ensure resources and staff are highly productive and customer-centric in support of education, research and administration services.
In just the last year, because of the COVID-19 pandemic, Mines Information & Technology Services had to act quickly to accommodate new modes of teaching, learning and working that even the most robust business-continuity plans had not envisioned. That included the installation of live lecture capture equipment in 117 classrooms across campus in a matter of weeks before the start of the Fall 2020 semester to allow students to attend in-person lectures remotely.
Under Sendze's leadership, ITS has continued the conversations initiated by the move to remote work, teaching and learning to reimagine how work will be done post pandemic and how the workforce, workplace and workspaces could be permanently upended in creative, bold new ways. This Future of Work Initiative moves beyond the "new" normal to take a step, once considered taboo in an industry that is mostly centered around campus, to provide similar or better services working close to 100 percent remotely.
Over the past year, Sendze has also led Mines ITS through efforts to build a culture of belonging through open roundtable discussions on issues of equity, diversity and inclusion. Recognizing the impact that recent events in the country were having on team members within the department, she created an opportunity for the team to voluntarily discuss issues of race, share perspectives, experiences, and talk about what this meant for them as individuals, an IT team, and for Colorado School of Mines – a model that has since been adopted by other units on campus.