Mining's human elements: Anthropologist seeks to bridge divide between industry, small-scale operations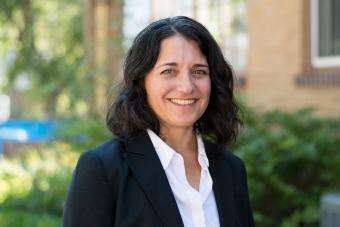 Assistant Professor Nicole Smith is the only social scientist in Mines' Mining Engineering Department, but that's par for the course for any anthropologist worth his or her salt.
"I've always been interested in why people do what they do and how it differs across the world," said Smith, who earned a bachelor's degree in anthropology from the University of Minnesota.
While pursuing a master's degree from Colorado State University, Smith examined community-based conservation in northern Tanzania. That's where she first encountered the Maasai, an ethnic group known for its distinctive dress and traditionally cattle-centric economy.
For her PhD at CU Boulder, Smith wanted to focus on the Maasai, who in recent years had filled a niche as gemstone traders in the tanzanite mining area of Mererani, Tanzania
"Livelihoods are more than just bringing in money—it's also a source of identity," Smith said. "Often, livelihoods represent peoples' passions, and there are critical intersections between livelihoods and social and political forms of organization. By focusing on livelihoods, we can gain a better understanding of the impacts of mineral development on people's way of making a living, as well as on their governance systems and culture. This is a fascinating area of study and relevant to industry professionals and government who are promoting sustainable economic growth through mineral resource development."
That was Smith's entry into mining. "After working with gemstone traders, I decided I wanted to work closer to the source," she said.
At the University of Queensland, she worked to build the Centre for Social Responsibility in Mining's research on artisanal and small-scale mining. After a postdoc in the humanitarian engineering program at Mines, Smith joined the Mining Engineering Department and is now conducting research for several projects on the opportunities and challenges of small-scale gold mining in Colombia and Peru.
One challenge is formalizing the sector. "Small-scale mining generally occurs in the informal economic sector, but if it's banned, thousands would be out of work," Smith said. "We're looking at the history and impacts of formalization to inform policies that better reflect the reality on the ground."
Another challenge is reducing the use of mercury to refine gold, which poses health and environmental risks. "It means so much more than just giving engineered technologies to people," Smith said. 
Smith's research into small-scale mining, also directly affects large operations. "One of the biggest challenges for mining companies is gaining and maintaining the social license to operate," she said. "Industry can benefit from a deeper understanding of people and culture."
Another of her research projects looks at how industry can better assess and standardize their contributions to sustainable development. "How does it compare across companies, how do companies report their contributions to sustainable development and how can they do better?" Smith said. "One of the fundamental tenets of engineering is to serve the public and do good for society, but sometimes that human element can get dropped. It's necessary to bring that back into the conversation."