Mines' temporary new emblem the result of one-of-a-kind M Climb
New students placed their 10-pound rocks on a temporary M near the intramural fields last week to await relocation to Mount Zion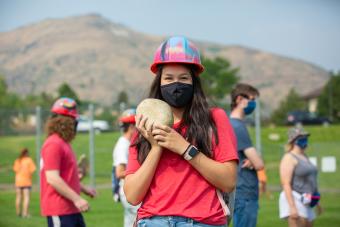 Colorado School of Mines has a new emblem on campus thanks to its newest group of students and a revised M Climb held during Fall Kickoff.
Due to local health and safety regulations, Mines was unable to hold its usual M Climb tradition up Mount Zion on Friday, Aug. 21. So Mines' Blue Key, along with the Office of New Student and Transition Services, adapted the event for incoming Orediggers.
The revised M Climb divided the Class of 2024 into cohorts of about 30 to 50 students, all wearing face masks. Each cohort was given a specific departure time to prevent the student groups from aggregating.
After spray-painting their hard hats, Blue Key representatives led each group on a long walking tour showcasing the historic and meaningful places around campus as the new Orediggers learned the fight song and carried their 10-pound rocks. The Student Activities, Involvement and Leadership Office coordinated a small cheering section of clubs, organizations and academic departments.
The tour ended on the hillside between the intramural fields and the fraternity and sorority houses. Orediggers painted their rocks with cups of whitewash and placed them in the temporary M until they can be relocated to Mount Zion.