Mines team places first at American Society of Civil Engineers' national competition
Surveying competition was held last weekend at Louisiana Tech University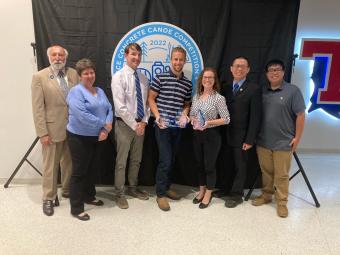 A team from Colorado School of Mines took top honors at the American Society of Civil Engineers' national surveying competition, besting 12 collegiate engineering teams from the U.S. and India.
The UESI Surveying Competition was held June 3 to 5 at Louisiana Tech University.  Mines took first, with California State Polytechnic University, Pomona winning second and George Mason University getting third. The Surveying Competition was a new addition to the ASCE's annual Concrete Canoe Competition and the first time the society held an in-person competition since 2019.
The Mines team, consisting of members Hanna Fitzgerald, Cooper Henry and Caleb Roth, qualified for the 35th annual society-wide competition after winning the Surveying Challenge at the 2022 ASCE Rocky Mountain Student Symposium in April.