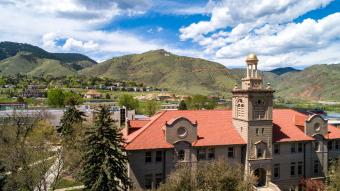 Colorado School of Mines is the top national university – public or private – in the state of Colorado and the No. 33 public university in the U.S., according to the latest rankings from U.S. News & World Report. 
Released today, the 2022 rankings assessed more than 1,400 bachelor degree-granting colleges and universities on multiple measures of academic quality.  
National universities encompass public and private institutions that offer a full range of undergraduate majors, plus master's and doctoral programs, with an emphasis on faculty research. Mines was ranked the No. 83 national university in the U.S. Behind Mines in Colorado, the University of Denver ranked No. 93, University of Colorado Boulder was No. 99 and Colorado State University was No. 148. 
Mines was also recognized for its support of student veterans (No. 46), innovation (No. 57), undergraduate computer science program (No. 60) and undergraduate teaching (No. 71). 
"Colorado School of Mines has long been a premier destination for a transformative educational experience in STEM fields, and these latest rankings are a testament to the leadership, faculty, corporate partners and the whole campus community delivering on that promise," said Dale Gaubatz, executive director of admissions at Mines. "While many universities have struggled with enrollment, Mines just enrolled it's most academically competitive, most diverse and largest first-year class in university history." 
More on Mines in the 2022 U.S News & World Report rankings: 
No. 33 Top Public Schools 

No. 42 Best Undergraduate Engineering Programs - Overall (Highest degree: Doctorate)
 

No. 3 in Petroleum Engineering

No. 34 in Civil Engineering 

No. 46 Best Colleges for Veterans 

No. 57 Most Innovative Schools 

No. 60 in Best Undergraduate Computer Science Programs 

No. 71 Best Undergraduate Teaching 

No. 83 National Universities