Colorado School of Mines petroleum engineering students took first place in the Student Challenge Contest held as part of the 2017 Society of Petroleum Engineers Health, Safety, Security, Environment, and Social Responsibility (HSSE-SR)—North America Conference, held April 18-20 in New Orleans.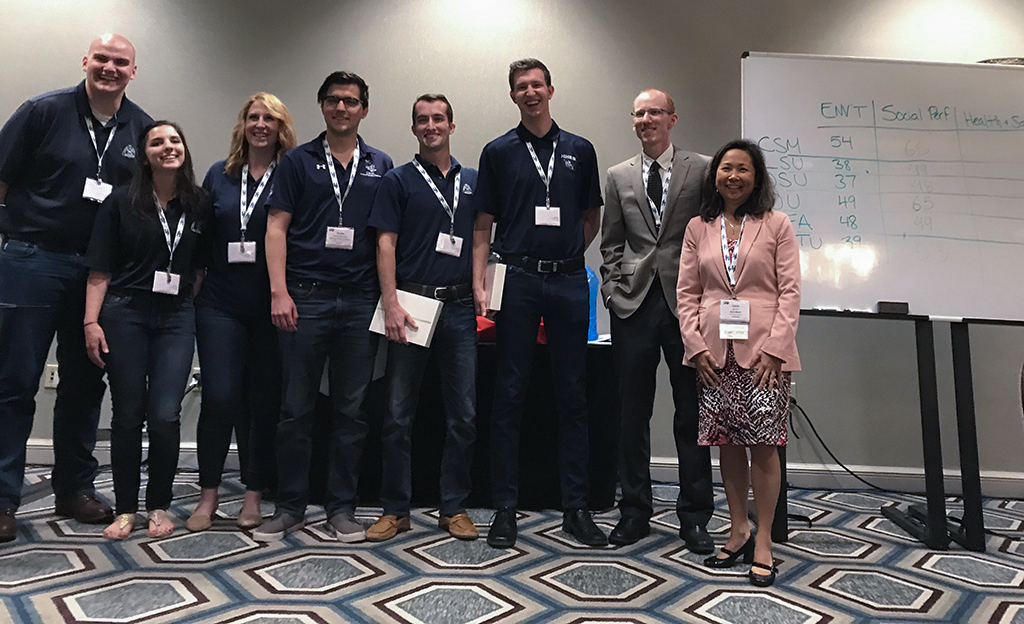 Members of the Mines team with Laura Johnson, training and development manager for safety, security, health, and environment at ExxonMobil (far right). Students from left: Zak Hartman, Danika Ahoor, Connally Reid, Emilio Gonzalez, James Blaney, Joe Brady. Photo credit: Adam Wilson, SPE.
The quiz-style contest tested university students' knowledge in HSSE-SR topics, with teams competing in thought-provoking challenges as well as lightning-round-style questions. Mines excelled in all three categories where points were awarded, beating the second-place team from Oklahoma State University 180 to 158 in the final score.
This was the third year of the Student Challenge Contest, sponsored this year by ExxonMobil. Other participating teams were Louisiana State University, University of Oklahoma, Stephen F. Austin State University and Texas Tech University.
Contact:
Agata Bogucka, Communications Manager, College of Earth Resource Sciences & Engineering | 303-384-2657 | abogucka@mines.edu
Mark Ramirez, Managing Editor, Communications and Marketing | 303-273-3088 | ramirez@mines.edu
p.p1 {margin: 0.0px 0.0px 0.0px 0.0px; font: 14.0px 'Iowan Old Style'; -webkit-text-stroke: #000000} span.s1 {font-kerning: none}