Mines students win awards in national engineering contest
Students were honored for their engineering solutions for the removal of Glen Canyon Dam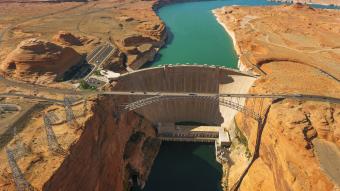 Five Mines students were honored in a national competition for their engineering proposals to re-engineer the Glen Canyon Dam to reconnect the Colorado River through the Glen and Grand Canyons.
Two of the three winning papers in the Rewilding the Colorado River Contest came from Mines sophomores. Sarah Gerot authored one of the winning proposals, and Charles Crosby, Crockett Stultz, Karen Pederson and Nina Botvin co-authored another. The three winning teams split a $10,000 cash prize.
"These proposals are important steps to open the public dialogue about how to deal with the quagmire that is Glen Canyon Dam," said Nevada State Sen. Tick Segerblom, one of the content's sponsors, in a news release announcing the winners. "We need new and creative ideas for how to make the Colorado River sustainable."
The Mines students originally created their proposals as part of a class assignment for their Engineering Terrain Analysis course, taught by Danica Roth, assistant professor of geology and geological engineering.
Completed in 1966 and located near Page, Arizona, the Glen Canyon Dam was constructed to control flooding and conserve water from the Colorado River, as well as be a source of hydroelectric power. The dam's construction resulted in the formation of Lake Powell, one of the largest manmade reservoirs in the United States. But now, nearly 60 years after the dam was built, the Western U.S. has been experiencing record drought, resulting in lower levels of hydropower from the dam. Finding solutions for the negative effects of low water levels, as well as the dam's environmental impact on the Colorado River inspired the engineering contest.
On the team of Crosby, Stultz, Pederson and Botvin, each team member focused on one key challenge: recreation and social impact, habitat analysis, sediment flow impact and budget considerations. Botvin said that collaboration was the reason for their proposal's success.
"Through researching the area and combining the knowledge and experience we have about dams, we were able to divide and conquer, putting our thoughts together to create the paper," she said.
Botvin added that having so many winners from Mines shows the quality of the education undergraduate students receive here.
"This award supports the idea that Mines is truly an amazing educational institution, showing that we have learned and absorbed a lot of different materials, all with real-world applications, and only as second-year undergrads," she said.
For Stultz, winning the award also felt personal.
"Growing up fishing, I have spent a lot of time in and around rivers," he said. "This gave me a perspective on how important they are to both local and national ecosystems. To be able to have some sort of impact on one of the most important rivers for water in the West is really awesome."
Gerot, who won as an individual, focused her proposal on the best way to remove the Glen Canyon Dam. She came up with a plan that would remove the damn over a period of three to five years by taking it down in stages, similar to how another large dam was removed in Washington in 2014.
"I decided on a plan that would both save money and prevent environmental damage to the surrounding area, like the removal of the Glines Canyon Dam [in Washington], which is similar in structure," Gerot said. "My plan would prevent sediment behind the dam from coming out too quickly."
Gerot said that even though she's a sophomore, she's already learned a lot about her field of interest. She was surprised to learn that the only non-Mines winner in the competition was a graduate student.
"I thought that because I don't have a lot of experience, I wouldn't win, but Mines does a really good job at teaching you how to do well," she said. "You are given a lot more experience here than at other universities. Professor Roth is helpful and taught us a lot. I don't think I would've have gotten as much support on entering a competition if I was at another school and it gave me a lot more confidence."
Working on the dam removal proposal may have led Gerot to her future career, too. Her next project? An internship with the U.S. Army Corps of Engineers, with a focus on dams, in Omaha, Nebraska.
Learn more about the 'Re-engineering Glen Canyon Dam' contest and read the winning proposals: https://savethecolorado.org/press-release-as-burec-deadline-looms-winners-of-the-re-engineering-glen-canyon-dam-contest-announced/