Mines students tackle real-world sustainability challenge with Freeport-McMoRan, Climax Molybdenum
Winners of the Henderson Sustainable Development and Entrepreneurship Challenge will be named Dec. 5 following the final pitches for repurposing the Henderson Mill property.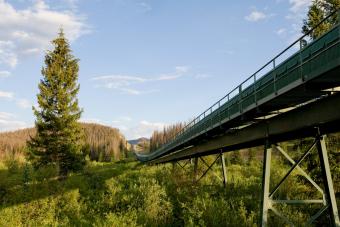 Climax Molybdenum Company's Henderson Mine in Colorado is one of the largest primary producers of molybdenum in the world. But when its mineral resources are eventually depleted, it's not just the physical mine in Clear Creek County that will be impacted.
On the other side of the Continental Divide, in Grand County, the mill facilities used to process the Henderson ore since 1976 also will be decommissioned – and that's where a group of Colorado School of Mines students come in.
For the second year in a row, Climax Molybdenum, a subsidiary of Freeport-McMoRan, is challenging Mines students to envision innovative ways to repurpose one of their assets following eventual mineral depletion.
The second Henderson Sustainable Development and Entrepreneurship Challenge kicked off earlier this fall with nearly 100 Mines students in attendance to form teams and pitch concepts for repurposing the mill's 10,300 acres of land near Parshall. All ideas were required to show a socioeconomic benefit to the surrounding communities, as well as be economically sustainable, socially acceptable and provide a positive and lasting legacy in the state of Colorado.
The five finalists in the running for the $25,000 grand prize are proposing:
Lithium-ion car battery reuse and recycling                          
Hemp farming and CBD production
Organic shrimp and insect farming               
Silicate glass product manufacturing
Electronic waste recycling and mineral processing
"Mines is so excited that Freeport-McMoRan and Climax Molybdenum decided to partner with our students again on a real-world challenge where they can flex their creative muscle and entrepreneurial skills," said Priscilla Nelson, professor of mining engineering at Colorado School of Mines. "We can't wait to see which of the ideas rises to the top this year."
Last year, the challenge focused on the mine's surface facilities on the east side of the Continental Divide near Empire, Colorado. The winning team proposed converting the mine property into a high-altitude data center and technology campus, with the second- and third-place teams suggesting a comprehensive high-altitude automotive testing facility and a mushroom and composting farm, respectively.
As with last year, Mines faculty and alumni mentors are assisting this year's student teams in refining their ideas. Located between 8,800 and 9,200 feet in elevation along Williams Fork River, the mill property is connected to the mine via a 9.5-mile conveyance tunnel under the Continental Divide and a nearly 5-mile overland conveyor.
"Climax Molybdenum and Colorado School of Mines have been longtime partners. We were so impressed with the creative solutions proposed in last year's challenge that there was no question to continue the challenge for repurposing the other side of the Henderson asset this year," said Mike Kendrick, president of Climax Molybdenum.
The five finalists were chosen in October after presenting to a panel of judges and Grand County community members in Kremmling, Colorado. The winners will be named Dec. 5 following final pitches on the Mines campus. First prize is $25,000, second prize is $15,000 and third prize is $10,000.
"The conventional approach to mine decommissioning is to demolish buildings and reclaim and revegetate the land. While that meets regulatory obligations, it does not contribute to sustainable economic development in either Clear Creek or Grand County. We know that many innovative opportunities to provide a lasting benefit to communities will surface over time," said Bill Cobb, vice president of environmental services and sustainable development for Freeport- McMoRan.
"We believe strongly that the ideas generated in these challenges have merit and can be implemented, but also recognize that the demographics and economic development characteristics of these counties will change over the next decade or two. The most important outcome is for county leadership to understand that there are viable options for supporting long-term economic development once the mine ceases operation."