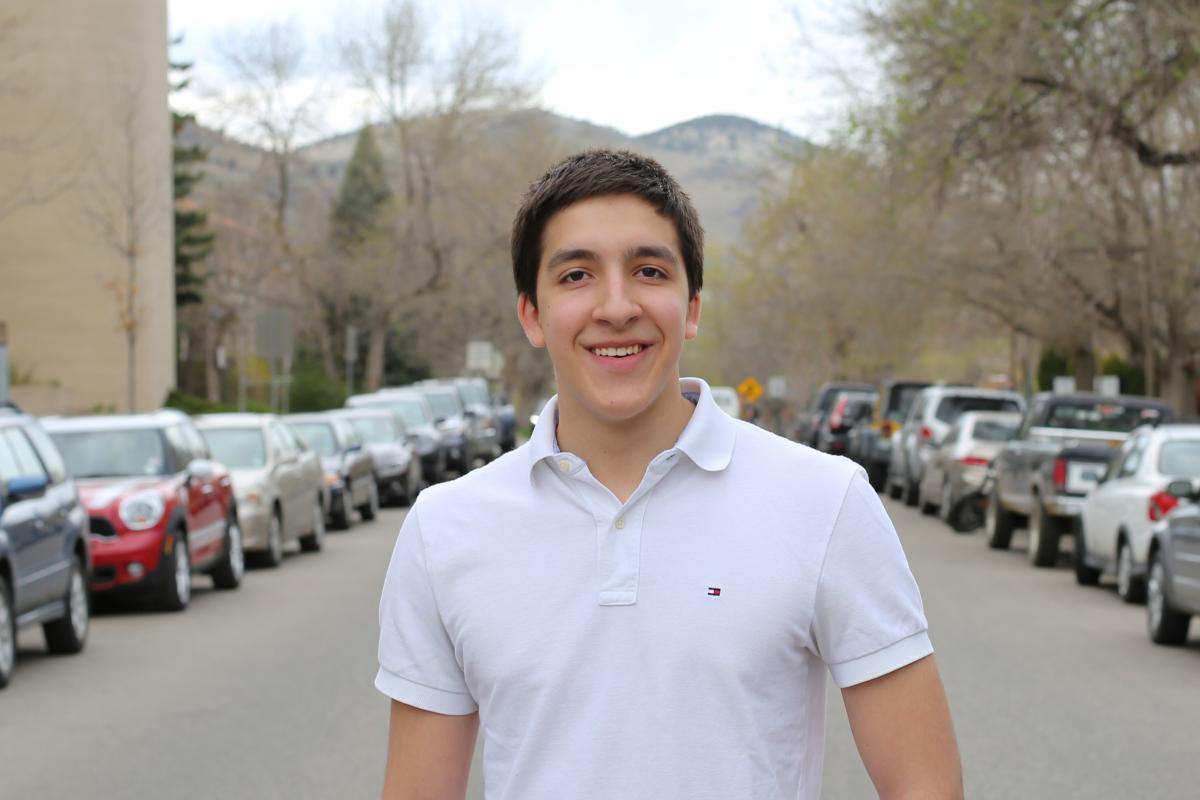 GOLDEN, Colo., May 1, 2015 – Santiago Gonzalez, a graduate student at Mines, has received a National Physical Science Consortium Graduate Fellowship from the U.S. National Security Agency.
The NPSC Graduate Fellowship is unique in that it lasts for six years and provides a $20,000 annual stipend in addition to tuition. Gonzalez's fellowship is sponsored by the NSA, so he will be required to complete at least one paid summer internship at the agency.
Gonzalez started his undergraduate studies at Mines in 2010 at the age of 12. He is set to finish his master's degree in computer science in December 2015. Gonzalez said, "I've never found the age thing to be a problem. At 12, I was definitely the shortest guy in my classes, but that wasn't an issue. Honestly, I was bored in conventional school. So it was more of a relief to have peers at Mines who were interested in the same things."
Currently, he is doing research with Dr. Tracy Camp on time synchronization for wireless sensor networks.
"The best example of its applications are in reducing the weight of commercial airlines," he said. "About eight percent of their weight is from cables alone, so if we can reduce that, we would save on fuel and have easier maintenance. Right now airplanes have thousands of sensors and computing nodes connected by cables, and require tons of redundancy. So we want to make the non-mission-critical systems wireless. In order for them to communicate though, they all need their internal clock synchronized so that messages don't collide."
According to Camp, Gonzalez is "one of those students all advisors dream of teaching. He's dedicated to his work and is mature beyond his years."
As part of the SmartGeo Research group at Mines, Gonzalez has also been working on creating hardware and software for geophysicists that would detect leakages and maintenance needs on dams. He hasn't decided whether this will be the focus of his PhD research.
"I'm passionate about wireless sensor network research, but I'm also interested in most of computer science," he said.
Last summer Gonzalez worked with Dr. Armando Solar-Lezama at MIT as a REU (Research Experiences for Undergraduates) student, where he contributed to improve the programming language Sketch.
Gonzalez credits much of his academic success to his family and his innate curiosity, noting "once I know what needs to be done, I just like to get it done."
Along with a passion for computer science and all things Star Trek, Gonzalez enjoys developing his own iPhone and iPad apps. His latest app for the iPhone, Maple Tasks, is a project management system that can be accessed from any web browser or Apple device.
Contact:
Deirdre Keating, Information Specialist, College of Engineering & Computational Sciences | 303-384-2358 | dkeating@mines.edu
Karen Gilbert, Director of Public Relations, Colorado School of Mines | 303-273-3541 | kgilbert@mines.edu