Mines on a sphere: New projection globe installed in CoorsTek Center atrium
A new way to display research, educational and informational content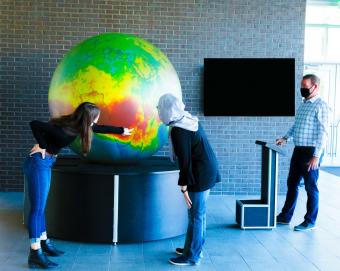 A new addition to the atrium of the CoorsTek Center for Applied Science and Engineering shines bright in the night. The 5-foot-wide GeoDome Globe boasts an interactive display featuring research, educational and informational maps and even a campus tour of the Colorado School of Mines campus, available for anyone from Mines to explore.
Installed by Elumenati, a design and engineering firm that creates innovative solutions for immersive visualization, the GeoDome Globe displays high-resolution 360 images and videos that help users better visualize global data, Mines-related research content and more.
The globe's interface features sections highlighting cross-cutting Mines specialties – earth, energy, environment, bio and health, space and humans at Mines. With content that will be updated periodically in the future, the potential to display unlimited amounts of Mines research projects on the sphere is now within reach.
"Featuring the work of our campus partners on such an eye-catching installation is what makes this project unique," said Physics Professor Fred Sarazin, who led the effort to acquire the globe. "The current Mines content available on the globe is just the beginning. There is a huge potential on campus to add more. The globe will be used as a novel education tool for faculty and students alike."
The globe's interface was designed from scratch to fit within the Mines brand standards – all the way down to the button colors – so it's truly unique to the university.
In addition to content submitted by Mines faculty, the globe also features NASA's Eyes on the Earth and NOAA's Science on a Sphere, both containing hundreds of datasets, some that update in real time. Users engage with the interface to navigate the display on the globe and can sort through various levels of content to view projections.
The acquisition of the globe happened thanks to a technology fee award leveraged by support from the Offices of Academic Affairs and Research and Technology Transfer and a small contribution from the Payne Institute.
The globe gives Mines community members a chance to display their work in an interactive manner. For more information about how your work can be featured on the globe, contact Chris Thiry at cthiry@mines.edu.