Mines sophomore to present research at Posters on the Hill
Sadie Jonson will present her research on wastewater treatment at the virtual event April 27-28.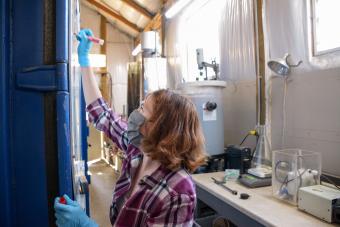 Sadie Jonson, a Mines sophomore majoring in geological engineering, has been selected to present at the 2021 Posters on the Hill, a highly selective event that gives college students the chance to share their research with federal legislators. Only 60 undergraduate researchers from hundreds of applications were chosen to present at this year's event, being held virtually April 27-28.
Jonson's research focuses on new methods of treating wastewater. With assistance from mentors Tzahi Cath, professor of civil and environmental engineering, and Rudy Maltos, graduate research assistant in civil and environmental engineering, Jonson has been conducting her research at the Mines Park Wastewater Treatment Plant since the fall of 2019.
The method Jonson has been researching is an aerobic granular sludge (AGS) treatment process. AGS is a dense microbial community that consumes carbon, nitrogen and phosphorus and settles quickly. Her work involves figuring out how to make AGS a less time-consuming process, so it can be adopted over conventional activated sludge (CAS) treatment, which is more commonly used in larger treatment facilities, many of which are aging and need to be either expanded or re-built from scratch.
"Wastewater treatment can be a space intensive process," Jonson said. "I'm working on figuring out how AGS can be used practically and in less time, and hopefully figuring out how existing plants can be retrofitted to adapt this process."
Posters on the Hill won't be Jonson's first experience with presenting her research. She participated in the 2020 Virtual Undergraduate Research Symposium, presenting her project "Decreasing Solid Retention Time of Aerobic Granular Sludge for Improved Wastewater Treatment." She'll be presenting an updated version of the project at Posters on the Hill.
Lakshmi Krishna, research assistant professor of physics and director of Undergraduate Research, emphasized how integral undergraduate research is to the student experience at Mines.
"Engaging undergraduate students in collaborative research with a faculty mentor is recognized as a high-impact practice at Mines," Krishna said. "Sadie representing Colorado at Posters on the Hill this year is an exciting opportunity and a unique avenue for her to advocate the importance of her work to congressional staff."
Jonson, originally from Arvada, is a Vanguard Scholar, participates in the Oredigger Leadership Community and is a member of the Mines sections of the Society of Women Engineers and the Society of Women in Geophysics. In high school, she was interested in working on water supply issues internationally, but since coming to Mines, she's learned more about wastewater infrastructure here in the U.S., and how that system needs improvement.
"I've learned that there's a lot of work to be done domestically when it comes to water quality," Jonson said. "I want to be able to work on the problems that might not be as obvious to the general public but are still important."
After finishing her undergraduate degree, Jonson hopes to do graduate study in hydrology, and work on improving access to groundwater and improving water resources.
Posters on the Hill is part of the advocacy efforts of the Council on Undergraduate Research (CUR). CUR is an organization of individual, institutional and affiliate members from around the world that provides support and professional development opportunities for faculty, staff, administrators and students.