Mines receives $1.5M NSF grant as part of Designing Materials to Revolutionize and Engineer our Future program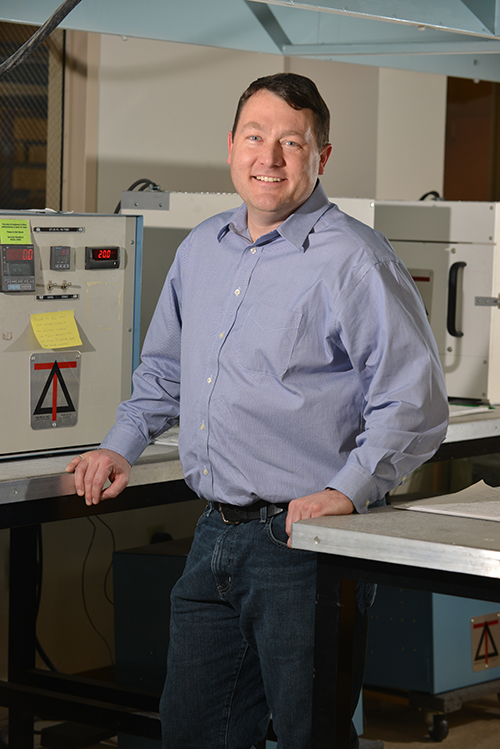 GOLDEN, Colo., Aug. 31, 2015 – Mines researchers led by faculty in the George S. Ansell Department of Metallurgical and M­­­­aterials Engineering have been awarded $1.5 million over four years to design new piezoelectric materials and improve existing ones.
Principal investigator Geoff Brennecka is joined by fellow MME assistant professors Corinne Packard and Vladan Stevanovic; Mechanical Engineering Professor Cristian Ciobanu; Assistant Professor of Applied Mathematics and Statistics Paul Constantine; and Andriy Zakutayev from the National Renewable Energy Laboratory.
Piezoelectric materials are able to generate an electric charge in response to mechanical stress. The reverse is also true – applying an electric field will produce mechanical strain.
The many applications for piezoelectrics include use as power sources, sensors, resonators and motors, from the push-button lighters on gas grills to high-resolution ultrasound and miniature filters for cellular communications. Different applications require different combinations of complex parameters for top performance, but enhancing piezoelectric response has historically been limited to modifying known materials via time-consuming and largely empirical experimental approaches.
This left "whole classes of materials unexplored and entire industries yearning for improved performance," the researchers said. To remedy this, Brennecka says, "we will combine high-throughput and high-precision computational and experimental techniques, guided by decades of prior work optimizing a limited subset of piezoelectric ceramics."
The group will focus initially on nitride alloys, continually populating an openly accessible database of piezoelectric materials including their calculated and measured properties. This database, the researchers say, "will allow materials researchers, device designers, and end-users alike to identify candidate materials with optimum properties for their desired use scenario, something that is wholly impossible today."
The award is from the National Science Foundation's Designing Materials to Revolutionize and Engineer our Future (DMREF) program. The program seeks to shorten the time for discovering breakthrough materials and bringing them from the laboratory to the marketplace and into products.
Contact:
Mark Ramirez, Information Specialist, College of Applied Science & Engineering | 303-384-2622 | ramirez@mines.edu
Karen Gilbert, Director of Public Relations, Colorado School of Mines | 303-273-3541 | kgilbert@mines.edu