Mines to offer on-campus childcare with construction of new early childhood education center
The Bright Horizons-operated childcare center will open next year near Mines Park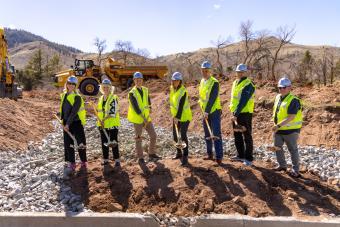 Colorado School of Mines officials broke ground April 18 on a new early childhood education center for Mines employees and students.
Located at the corner of 19th Street and Tangent Way, on the western edge of Mines Park, the center will serve about 104 children from the Mines community ages 6 weeks through 5 years. Bright Horizons, the country's largest provider of employer-sponsored childcare, has been contracted to operate the center.
"Mines employees have long asked for convenient on-campus childcare, and we're excited to finally be able to move forward with the construction of our early childhood education center," said Kirsten M. Volpi, executive vice president and chief operating officer at Mines. "This is an important investment to support Mines' families and our goal to be a first-choice employer for faculty, administrators and staff."
Construction is expected to be completed by the summer of 2024. AMD Miller is the general contractor on the project, and the architect is Davis Partnership. 
The LEED Gold building will be constructed up against the natural landscape. The center's students will be able to experience and interact with the natural site around them, and all landscaping will be drought resistant.
Construction of the center is being partially funded by a Colorado Department of Early Childhood Employer-Based Child Care Grant. Mines is currently determining the timing for registration and will communicate to the campus community as soon as sign-up details are finalized.
The center will feature Bright Horizons' Discovery Driven Learning approach to inspire curiosity, health and safety policies backed by experts, and educator-created curriculum to support school readiness.
"Bright Horizons is proud to partner with Colorado School of Mines to provide a high-quality childcare center for their employees," said Jami Behrens, Division Vice President of Operations at Bright Horizons. "We're excited to be a part of their children's first stage of learning here at the center.  All our programs are geared to ensure children have the language, math, science and social skills they need for elementary school, and we're also able to help parents incorporate learning experiences in their children's home life as well."