Mines is No. 1 national university in Colorado: U.S. News and World Report
Colorado School of Mines was also recognized for several academic programs, undergraduate teaching, support of student veterans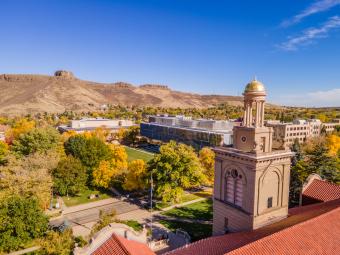 Colorado School of Mines was once again recognized among the nation's top universities in the latest U.S. News and World Report rankings. 
In the 2024 rankings released today, Mines is No. 76 among national universities, a category that encompasses public and private institutions that offer a full range of undergraduate majors, plus master's and doctoral programs, with an emphasis on research.  Among the public schools in the category, Mines ranks No. 36. 
Both rankings put Mines at No. 1 among universities in Colorado. Behind Mines in the state, University of Colorado Boulder is No. 105, University of Denver is No. 124, and Colorado State University is  No. 151 in the National Universities rankings. 
Several Mines degree programs also received recognition in the rankings among schools where the highest degree granted is a PhD: No. 2 in Petroleum Engineering; No. 17 in Materials; No. 24  in Environmental/Environmental Health; No. 29 in Civil; and No. 71 in Computer Science (Undergraduate).
Where Mines stacks up in the 2024 U.S News & World Report rankings:  
No. 36 in Top Public Schools  
No. 37 in Best Undergraduate Engineering Programs (Highest degree: Doctorate)
No. 39 in Best Undergraduate Teaching  
No. 45 in Best Colleges for Veterans
No. 46 in Most Innovative Schools 
No. 76 in National Universities