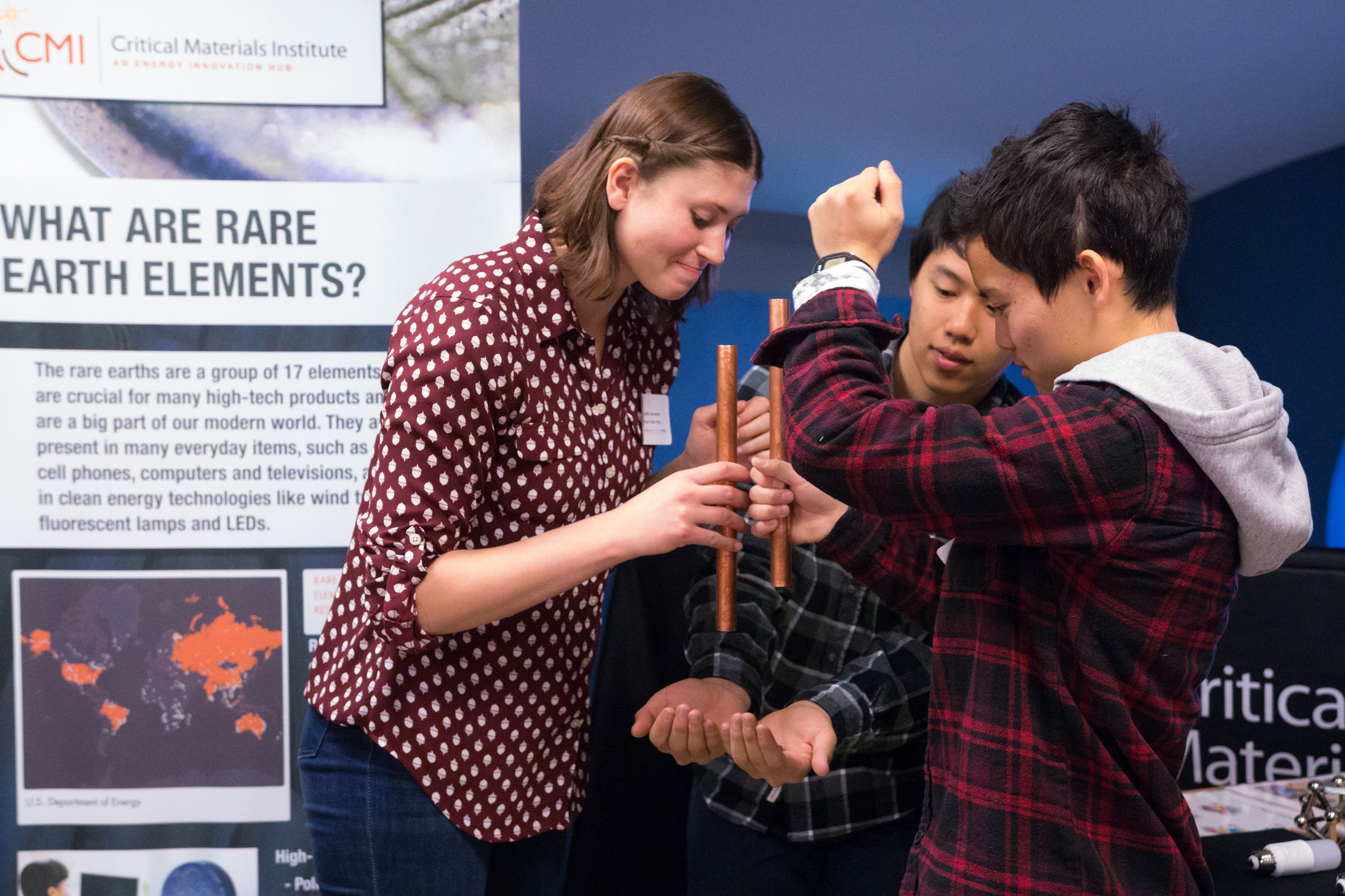 In honor of
National Engineers Week
, Colorado School of Mines and Lockheed Martin teamed up Feb. 16 for a fun day of activities and industry mentorship to encourage female and minority students underrepresented in the STEM fields to pursue careers in engineering.
Forty Front Range high school students spent the morning getting a behind-the-scenes look at the cutting-edge research occurring at Mines, followed by a Lockheed Martin-sponsored mentoring luncheon with Mines alumni currently working in the aerospace industry.
Hands-on activities at the Critical Materials Institute, an Energy Innovation Hub of the U.S. Department of Energy, focused on the importance of critical rare-earth elements as they relate to clean energy and advanced technology and explored the considerations of using these materials and substitutes through observation and experimentation exercises that reflect current, past and potential research at Mines and the institute.
At the Center for Space Resources lab, students learned about "gas stations in space" and research into optical mining and other forms of in-situ resource utilization – and got to feel the lunar soil simulant used in the lab's experiments. Students also toured the Colorado Fuel Cell Center and the Geology Museum, the latter of which is home to one of the state's two Apollo 17 "Goodwill" moon rocks.
After the tours, the 40 high school students, joined by 20 current Mines students, met with Mines alumni now working as engineers at Lockheed Martin and elsewhere in the aerospace industry to talk about space, engineering and college. 
The mentoring luncheon also featured remarks from Mines President Paul C. Johnson; Paul Anderson '85, program management director for the Orion program at Lockheed Martin; and Tracy Copp MS '01, who works in mission intellectual assurance at Ball Aerospace. Rod Eggert, deputy director of the Critical Materials Institute and Viola Vestal Coulter Foundation Chair in Mineral Economics at Mines, introduced the speakers.
National Engineers Week
(Feb.18-24) is a national event that celebrates how engineers make a difference in our world, increases public dialogue about the need for engineers and brings engineering to life for kids, educators and parents.
CONTACT
Emilie Rusch, Public Information Specialist, Communications and Marketing | 303-273-3361 | 
erusch@mines.edu
Mark Ramirez, Managing Editor, Communications and Marketing | 303-273-3088 | 
ramirez@mines.edu