Mines to launch Bachelor of Science in Construction Engineering
The new program, which will begin in Fall 2023, will prepare students for high-demand careers in a growing industry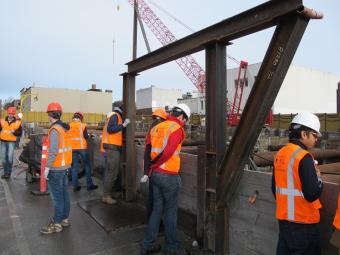 Colorado School of Mines will launch a bachelor's degree in construction engineering next fall to prepare students to enter high-demand jobs in the growing industry.
The new program grew out of organic demand – Mines students have shown a growing interest in the field in recent years and alumni working in the construction industry also made a compelling case for the new degree offering.
"A lot of our students in civil engineering end up working in construction, so having stronger and more specified training in that area will only help our students be more prepared," said Junko Munakata Marr, professor and head of the Civil and Environmental Engineering Department at Mines. "They have no trouble getting these jobs but broadening their expertise can only help them excel even more."
The new program will build on the existing civil engineering curriculum, with six new classes focused specifically on construction engineering topics such as estimating and scheduling, construction engineering means and methods, construction economics and business, construction law and contract administration. Mines is in the process of hiring two faculty members to teach the new classes and support research that advances the field.
"It's a really diverse and broad discipline," Munakata Marr said. "Students will get exposure to the specifics on the technical background of civil engineering, with a focus on construction, along with management and professional skills like safety, supply chain economics, risk and contracts."
In addition to preparing students for jobs in the construction industry, the new program will also provide a strong foundation for those interested in several related Mines graduate programs, such as those in underground construction and tunneling, engineering and technology management, and mining engineering and management. Undergraduate students looking to minor in underground tunneling and construction will also be able to easily enhance their academic experience with the new Construction Engineering program.
"There will be no shortage of jobs in this field in the future," Munakata Marr said.
New and current students will be able to declare a major in construction engineering starting in Fall 2023. Additional information about the program will be posted soon at mines.edu/academics/construction-engineering-degree-colorado-school-of-mines.