Mines hosts Shepherd in NCAA DII Football Championship semifinal
Saturday's game between No. 10/7 Mines (12-2) and No.11/9 Shepherd (13-1) kicks off at 1:30 p.m. at Marv Kay Stadium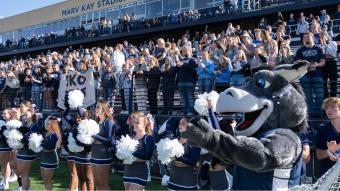 For the first time, the NCAA Division II Football Championship semifinals come to Golden as Super Region 4 champion Colorado School of Mines hosts Super Region 1 winner Shepherd for the right to a spot in the national final.
Saturday's game kicks off at 1:30 p.m. at Marv Kay Stadium and will stream exclusively on ESPN+ (subscription required). A live audio broadcast with the Oredigger crew of Miles Dunklin and Josh Dover will be available for free on the RMAC Network. 
The winner of Mines-Shepherd will play the winner of West Florida at Ferris State on Saturday, Dec. 17 in the national championship game in McKinney, Texas. 
Mines is making its eighth overall appearance in the NCAA Championship, all coming since 2004, including four in a row, which is the third-longest active streak in the nation. The Orediggers are matching their deepest postseason run, which came last year, when they ultimately fell at Valdosta State in the semifinals. 
Read more about Saturday's matchup at minesathletics.com.