Mines hosts Fortescue Future Industries Technology Hub announcement
Located in Jefferson County, the new hub will bring together experts from Mines, NREL and other Colorado institutions to work on green hydrogen, green energy technology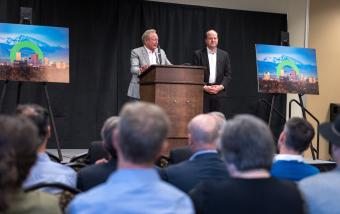 Colorado School of Mines hosted a major economic development announcement last week related to the future of green energy in the state.
Colorado Gov. Jared Polis joined Andrew Forrest, founder and executive chairman of Australia-based Fortescue Future Industries (FFI), to announce FFI's decision to establish a Technology Hub in Colorado that will create more than 150 local jobs.
The hub, to be located in Jefferson County, will bring together experts from Mines and other leading Colorado institutions, including the U.S. Department of Energy's National Renewable Energy Laboratory.
"This exciting announcement brings good-paying jobs to Coloradans, builds upon our work to achieve 100% renewable energy by 2040, and reflects Colorado's role as a global hub for innovation," Gov. Polis said during the Sept. 16 announcement. 
According to FFI, the new Technology Hub will develop green hydrogen and green energy innovations and technology, with a specific focus on decarbonizing hard-to-abate industries that can be quickly commercialized.
FFI chose Colorado over a number of other potential locations due to its vibrant innovation ecosystem, quality of life and world-leading research institutions – including Mines, NREL, National Institute of Standards and Technology (NIST), University of Colorado Boulder and Colorado State University. 
"One of the things that attracted me to this state about eight years ago was the fact that all of these entities really play together very well, in a way that doesn't really happen in other states," Mines President Paul C. Johnson said during the announcement. "The connections between the expertise we have in various places, the ability to do certain types of work and really the talent we all attract to the state creates this very interesting combination and makes Colorado such a special state."