Mines graduate student and CDOT work together to identify and mitigate rockslide on I-70 - before it happened
Adam Malsam sent his findings to the Colorado Department of Transportation, who installed mitigation features to prevent a rock slide from affecting the roadway.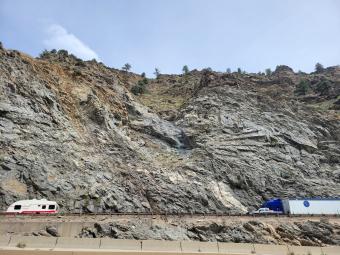 Colorado School of Mines graduate student Adam Malsam was monitoring a rock slope on Floyd Hill, near where Interstate 70 and US Highway 6 meet, when he noticed something a bit unusual. A large rock on the slope, about 30 to 40 cubic meters, seemed to be moving more than it should.
"It was bigger than a Chevy Suburban," Malsam said. "The monitoring of this particular block didn't really fit into my research, but I paid attention once I noticed it was moving toward the road."
He was monitoring the slope as part of his master's thesis project, looking at how weather affects rockfall in that area along I-70. While a rock moving at the site wasn't necessarily out of the ordinary, this particular block was moving more than expected.
Malsam and his advisor, Gabriel Walton, associate professor of geology and geological engineering, alerted the Geohazards Program with the Colorado Department of Transportation (CDOT). The CDOT team had also been monitoring this slope and quickly moved into action, taking only a few weeks to complete the installation of an anchored mesh system to prevent any falling rocks from affecting the nearby highways.
CDOT's Geohazards Program is a robust team of engineers and scientists that provide geological expertise for rockfall, rockslide, debris flow and landslide hazard mitigation, design, construction and planning. The team uses a variety of data to determine corridors that pose a high risk for these hazards.
A combination of data CDOT already collected at Floyd Hill and the information Malsam provided to the team allowed for effective decisions to be made about construction timing and mitigation methods in order to reduce the risk of rockfall from this location. Rock scaling followed by installation of the anchored wire mesh successfully took place with minimal impacts to traffic late March through mid-April, 2022.
It's important to note that it is difficult or impossible to completely eliminate the threat of rockslides from slopes above the highway. However, in cases like this where CDOT puts mitigation devices on a slope, the possibility of rock affecting the highway is significantly reduced.
"CDOT and Colorado School of Mines have been working together to incorporate research findings and data into decision making tools to effectively mitigate geohazard risks that affect the transportation network," said Nicole Oester, Engineering Geologist in CDOT's Geohazards Program. "This success story is one example of these projects bringing value to both the research side as well as to CDOT and the traveling public."
Malsam, who defended his thesis in April, will be formally graduating from Mines in August. He's started a job with a tunneling and underground construction company based in Lakewood.
"Cleaning up debris and then installing protective mesh and barriers is common practice, but it is reactive," Malsam said. "The opportunity to be involved in something proactive in this industry is more unique, and that makes it exciting."
Walton said it may become more common for agencies to invest in forecasting future events, and he welcomes the opportunity for Mines to work with CDOT on preventing more possible rock falls.
"CDOT is a leader in both the U.S. and internationally in working with research partners and consultants to realize the full potential of modern technologies, and we look forward to working with them on similar projects in the future," Walton said.