Mines Football ascends to No. 1 in national polls for first time in program history
The Orediggers took the top spot in both the AFCA and D2football.com polls this week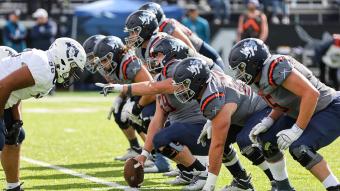 For the first time in program history, Colorado School of Mines football is ranked #1 in NCAA Division II, ascending to the top spot in both the AFCA coaches' and D2football.com media polls this week.

The Orediggers (7-0, 5-0 RMAC) had been stuck at #2 all season behind defending national champion Ferris State before they lost to Grand Valley State over the weekend; Mines defeated Grand Valley State in the season opener. That led a shake-up of the top-10 in both polls, Pitt State moved to #2 behind Mines with Minnesota State, Grand Valley State, and Delta State rounding out the AFCA's top five; Mines received 27 of 28 first-place votes in the AFCA poll. The D2football.com poll put Mines ahead of GVSU, Pitt State, Minnesota State, and Ferris State in the top five.
Read more about the latest rankings at minesathletics.com.