Mines Ethics Bowl team heading to national championship
The Mines team will compete at the National Intercollegiate Ethics Bowl National Championship in March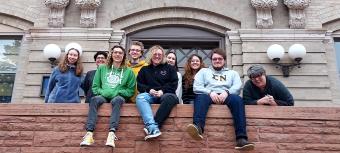 A student team from Colorado School of Mines has qualified for the Intercollegiate Ethics Bowl National Championship. This is the sixth time a Mines team has earned a bid to the championship.
Mines earned its bid to nationals by placing third at the Rocky Mountain Regional Bowl in November. The Mines team only lost to the eventual winner of the event, Snow College. The national championship will be held at the Association for Practical and Professional Ethics Annual Conference in Portland, Oregon, in March.
This year's team includes a wide variety of majors: Coleman Dusavage, senior in chemical engineering; Weston Gary, freshman in environmental engineering; Scheherazade Harvey, freshman in engineering physics; Briar Martin, junior in computer science; David Martin, junior in engineering physics; Kalea Meyer, sophomore in computer science; Anamika Misra, senior in environmental engineering; Evan Okolovitch, senior in chemical engineering; and Cora Perkins, senior in mechanical engineering.
We talked to team members about the experience, how it's enriched their time at Mines and what they're looking forward to at the national championship:
Q: How did you get involved in Ethics Bowl?
Weston Gary: One of our team captains, Briar Martin, introduced the club to me at a McBride [Honors Program] banquet. I decided to join to round out my technical education with philosophy and ethics.
Kalea Meyer: I was at Celebration of Mines and the club looked interesting.
Scheherazade Harvey: Briar gave me a very welcoming and interesting speech about Ethics Bowl at a McBride banquet, though I just found out they wrote the speech five minutes before presenting it, making it all the more impressive.
Q: How has Ethics Bowl enriched your experience at Mines?
Anamika Misra: I love to talk about complex issues, which aren't necessarily about engineering, with people who have differing perspectives, and this club provides a respectful space to do that.
Briar Martin: I have met some of the best people I know at Mines in Ethics Bowl and I've had some of the most enriching conversations. I've been able to take my learning elsewhere as well, whether it be to McBride to Thorson [First-Year Honors Program] or people I chat with around campus when I'm taking a break. I feel like a more well-rounded person who can have better conversations with everyone because of it.
Q: What is an aspect of the competition that stands out as memorable or interesting?
David Martin: Getting excellent alternative views and objections from other teams that make you rethink your arguments. Working as a dynamic and fast-paced team is also very exciting.
Coleman Dusavage: The Question period is always a delight, as the uncertainty of the questions you are receiving and how the opposing team will answer is exciting.
Q: What does this bid to nationals mean for you, the team and Mines as a whole?
WG: The bid for nationals represents an opportunity for Mines, ostensibly an engineering school, to express proficiency in ethical matters, acting as both an example to the student body and to other schools of what we are capable of.
BM: The nationals bid for me is a way to get better at my presentation skills and to travel way outside of my comfort zone. For the team, it's a way to get better with our theory, argumentation, and come even closer together. For the school, it's a way to show that Mines students excel in more than engineering and that our students do (very often) take a multidisciplinary approach to problems and the world.