A team of Colorado School of Mines students competed at the Rocky Mountain Regional Ethics Bowl, hosted by Mines on November 12, and will advance to the national competition. This is the second year in a row that Mines has earned a bid to the National Intercollegiate Ethics Bowl.
The Mines team with faculty advisors. Left to right: Dana Steiner, Ian Kramer, Kirsten Fong, Toni Lefton, Sandy Woodson, Hannah Grover, Azriel Wolffe, Parker Bolstad.
Teams from 10 schools across the Rocky Mountain region competed in the 2016 regional competition, each defending their moral assessments of some of today's most complex ethical issues.
Liberal Arts and International Studies professors Toni Lefton and Sandy Woodson coached the Mines team, which included students Dana Steiner, Ian Kramer, Kirsten Fong, Hannah Grover, Azriel Wolffe and Parker Bolstad.
"All the participating teams were very strong, and Mines is fortunate to have had these dedicated and talented students representing us," said Woodson. "They represent the best of what a Mines education means: hard work, critical thinking, and the ability to address complicated problems."
The team spent over nine weeks preparing for the regional competition, holding evening practices and weekend spars to deliberate the cases they would be defending.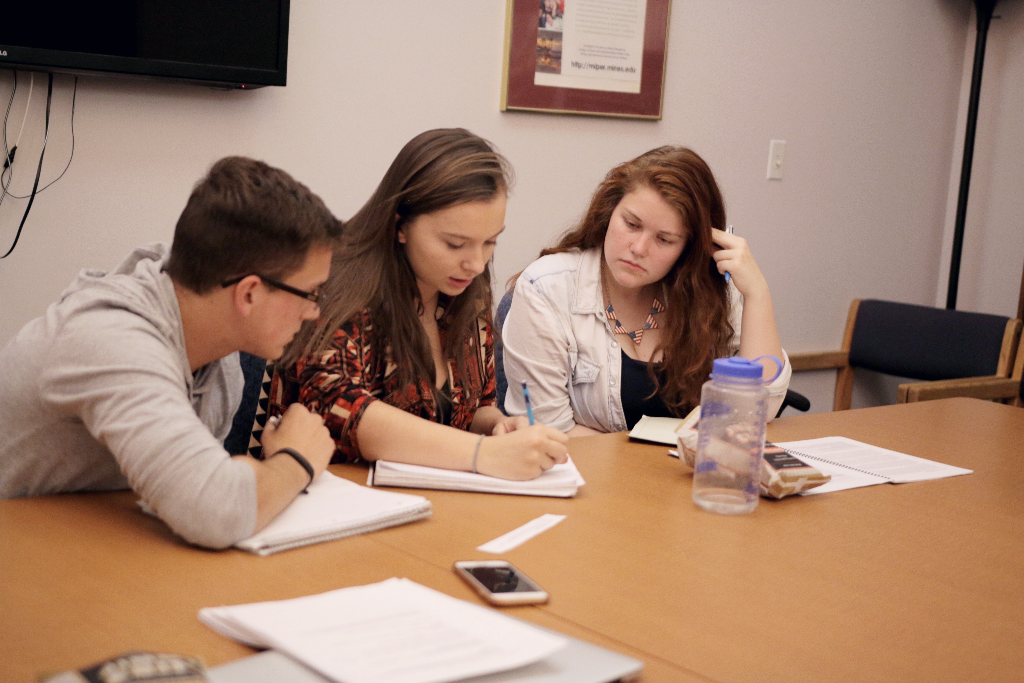 The team forms a case argument during an evening practice leading up to the regional competition.
Lefton said that she is proud of the voices each of the Mines team members brought to the table, "and the concrete ways in which our team humanized and contextualized each issue as they reasoned through the moral complexities."
It was engineering physics senior Hannah Grover's second year participating in the Ethics Bowl—she values the skills that she has gained by participating. 
"We aren't just looking for some solution, because these ethical dilemmas don't have straightforward answers," explained Grover. "What we are really learning how to do it approach controversial and uncertain situations with an open mind and be able to listen to and process a variety of opinions. Even though these discussions are in the context of a competition, the skills I've learned apply to all aspects of my life. I have become a better listener and a better thinker, and hopefully I can try and share these skills with everyone around me." 
Both the Mines team and a team from Arizona State University will be advancing to the 21st National Intercollegiate Ethics Bowl, to be held in Dallas, Texas on February 26.
"Now that we're going to Nationals, it really just means that we have to hit the ground running when the cases drop in January," said chemical and biological engineering senior Dana Steiner. "Up until then we can take a break for a bit, but we have half the time to prepare for Nationals, so it will be a busy seven weeks. I love spending time with this team though—we really build off of each other and have fun conversations."
Grover said that she also loves spending time with the team, and that she is most excited about "getting to work on new cases and have important ethical conversations with other students from all across the country."
Woodson noted, "I'm very proud of them, and think our chances at Nationals are good."
Contact:
Agata Bogucka, Communications Manager, College of Earth Resource Sciences & Engineering | 303-384-2657 | abogucka@mines.edu
Ashley Spurgeon, Editorial Assitant, Mines Magazine | 303-273-3959 | aspurgeon@mines.edu
p.p1 {margin: 0.0px 0.0px 0.0px 0.0px; font: 12.0px Helvetica}