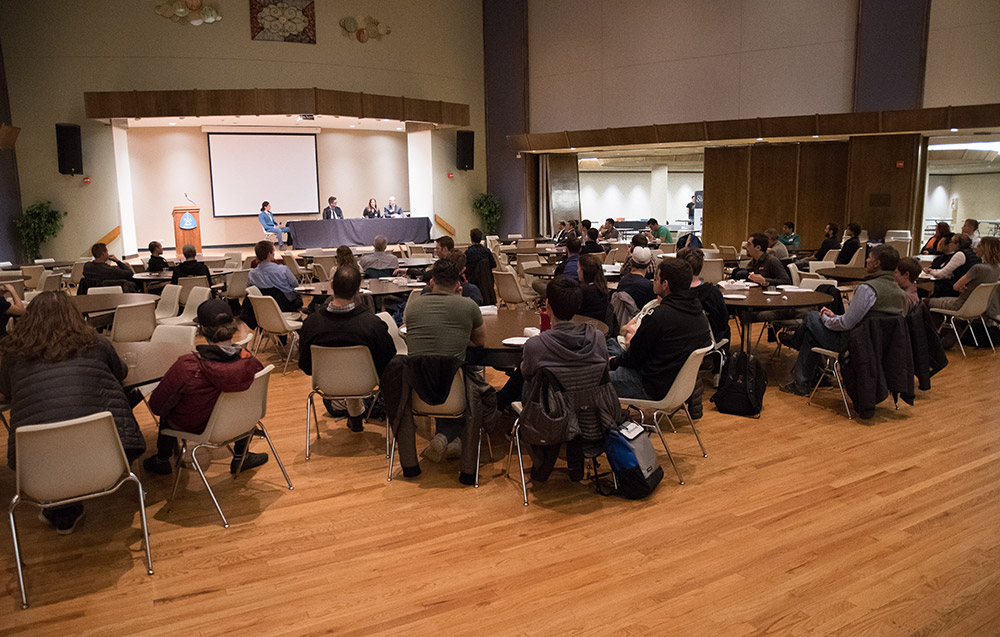 The Colorado School of Mines Entrepreneurship Club hosted the second annual Golden Startup Festival, which included a networking fair, a panel discussion and a pitch competition, on April 28, 2017 at the Green Center.
"The startup festival brings together entrepreneurship around Golden and Mines," said Kylen McClintock, vice president of the Mines Entrepreneurship Club and cofounder of the startup AirBespoke. "Entrepreneurship thrives when people are able to share ideas and can find that connection."
The festival is the culminating annual event for the Entrepreneurship Club and teaches participants about launching and growing a startup company. The panel discussion included startup professionals Jen Thoemke, cofounder of Golden business accelerator Traxion; Charles Mason, inventor and owner of Clingless, which produces a shower curtain holder; and Nathan Sleadd, gear designer for Zipline Gear.
Andrew Maxey from Vartega, which develops a low-cost grade of carbon fiber through a novel recycling process, won the pitch competition and was awarded $500 as well as a meeting with Traxion. Second place went to Stow.io, an app that links people with extra storage with others who need it. Informu, which has designed a tracking device that lets you know when you're too far from your belongings, took third.
The Golden Startup Festival also introduces potential investors to developing companies. "It's a great place to meet a potential cofounder," McClintock said.
The event also allows students to "see these really cool companies on the edge of technology, with unique business models and that are trying to solve interesting problems in the world," McClintock added.
"The tools are out there," McClintock said. "You can get funding, you can create a prototype pretty quickly, you can test a market fit and you can launch a company if you are committed to it."
For more information about the Mines Entrepreneurship Club, visit their Facebook page.
CONTACT
Joe DelNero, Digital Media and Communications Manager, Communications and Marketing | 303-273-3326 | jdelnero@mines.edu
Mark Ramirez, Managing Editor, Communications and Marketing | 303-273-3088 | ramirez@mines.edu