Mines cheerleading team embodies Oredigger pride
"Oredigger spirit is not just about being proud of the school we attend but being proud of the community and symbol that is Mines," current cheerleader James Ho said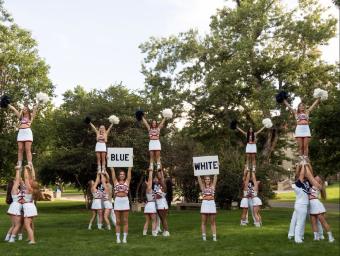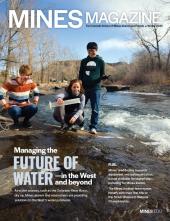 Pride. Spirit. An overwhelming sense of enthusiasm for one's alma mater. Whatever you call it, you can bet Orediggers have it in abundance when it comes to Mines. And no one knows that better than the Mines cheerleading team.
First formed in 1969, the Mines cheerleading team has become a stalwart part of upholding what it means to be an Oredigger—and encouraging their peers to show off their school pride and maintain the close camaraderie that Mines students and graduates share. The first team consisted of only six students but kicked off an indelible legacy that underscores Mines' renown in the classroom and on the field.
"Mines has a reputation that's known worldwide, and you have to feel like you're a part of that," said Pam Tittes '72, MS '77, who was a founding member of the school's first cheer team.
Today, the 26-person coed team often makes appearances at home football, soccer, basketball and volleyball games and is now in their second year as a competitive team. And while being part of the team often gives students a break from their studies and enables them to pursue other interests beyond the classroom, they still put 100 percent into the program to make it the best it can be.
"The energy our team brings to Mines sporting events and anything else we attend is irreplaceable," said James Ho, a current Mines cheerleader. "Every person on this team is extremely hard working and motivated toward our goals. Every day I practice with this team, I see my teammates giving their all in our stunts and cheers while still enjoying every bit of it, which, in my opinion, is what the Mines experience is all about."
Head coach Irene Franek has seen this dedication firsthand. "The common theme at Mines is that we have to keep going, and we have to keep getting better," she said. "I've coached kids with that mentality in the past, but I've never had a whole team like that. It took me a bit to understand that, and once I did, I had to step back and think about how I can coach differently to help support how they learn." 
And getting involved on campus—especially in something like cheerleading—has proven beneficial, not just for building community and pride among Orediggers, but also for giving students skills and experiences that will help them in their lives beyond Mines.
"It broadens your base," said Tittes. "It makes you more versatile and useful in your professional life. You understand that there's more than just your field, and it opens your eyes to different aspects of life."
No matter what someone's interests may be or how involved someone is on campus, cultivating a sense of pride is an important part of being an Oredigger—but it goes beyond enthusiasm for the school itself.
"Oredigger spirit is not just about being proud of the school we attend but being proud of the community and symbol that is Mines," said Ho. "I think the Oredigger spirit is just really being proud of this mindset and the accomplishments of the Mines community."