Mines alumni put entrepreneurial skills to work engineering an urban farm
Class of 2007 grads Jamie and Doug Wickler are the owners of Wild Wick's Farm in Lakewood, Colorado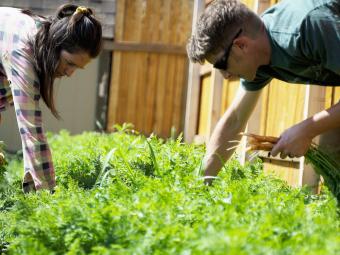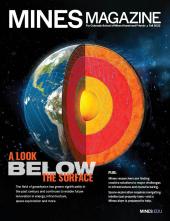 By Anica Wong, Director of Constituent Communications, Colorado School of Mines Foundation
​Jamie '07 and Doug Wickler '07 could be sitting in offices with lucrative careers as civil and mechanical engineers, respectively. Instead, they are watching their two young kids running around their urban farm in Lakewood, Colorado, picking (and eating) strawberries.
"We wanted to spend a lot of time with our family, and working the 9 to 5 didn't fit into that," said Doug. "So, the entrepreneurship piece comes with trying to figure out how to include our family in the business, even our little kids."
How to start an urban farm
The Wicklers own Wild Wick's Farm, about a half-acre of growing space split across four properties. They sell their produce at two local farmers' markets during the summer and have a 20-person Community-Supported Agriculture system, which provides produce every week to customers who purchase a share at the beginning of the season. 
Jamie has been farming for 11 years with various organizations, including the Denver Botanic Gardens' Chatfield Farms, where she developed and taught a program for veterans interested in agriculture. Jamie's background, combined with Doug's handiwork skills and desire to move out of a government job where he was using a lot of harsh chemicals on plants, created a perfect opportunity for them to start farming together. They've been doing that full-time for two seasons.
The Wicklers are in the exact spot they want to be at a time when it has become critical for all people to be involved in our food systems: stewarding the land, providing food to their community and constantly considering how to update their systems and processes to do those things as best as they can. 
That is where their engineering background comes in. 
"Using my Mines degree to problem-solve soil is a little bit different from what I was doing as a civil engineer," said Jamie. "Chemistry, biology, physics—those are all things that you need to know in order to farm. Plus, I got a minor in economics, and Mines prepared us significantly in the numbers game. Understanding how cost, profits and interest work is important to running your own business."
The cornerstone of the Wicklers' business model is sustainability. Jamie talks about it in an economic sense: How do they make sure the farm is financially sustainable as they continue on this entrepreneurship path? For them, it means thinking creatively. For example, buying a large piece of land to exclusively farm on was out of their budget, so they slowly purchased rental properties in and around Golden (which they often rent to Mines students) and converted the yards into growing spaces.
That sustainability focus also extends to caring for the environment. They don't use synthetic fertilizers, pesticides or herbicides—as Doug points out, the best pesticide is a healthy plant, which starts with diverse, strong and complex soil. Utilizing organic practices is incredibly time and labor intensive, but it's the only way the Wicklers want to steward their land and grow as much food as they can. "Food is medicine," Doug said.
Education remains at the forefront
The Wicklers also emphasize educating the community at farmers' markets and other outlets about their growing practices, because it highlights what makes local food so special. 
"People who buy our produce love the flavors that they can't find at the grocery store," Doug said.
The Wicklers also serve as mentors to other local farmers. They help farmers set up irrigation systems and plan sustainable greenhouse construction. They provide support and expertise when farmers are trying to balance their soil. They are always around to lend an ear or troubleshoot pest problems.
"There are many barriers to becoming a farmer, so we have been incredibly fortunate to have Jamie and Doug just a phone call away," said Ivan Soto of SoCliff Farm, another urban farm in the Denver metro area. "They have provided guidance on issues we've never dealt with before, and they've cheered us on. Like many others, they welcomed us into the local farming community, and we're grateful for their support." 
While Jamie and Doug farm to do right by the land they grow on, connect with people and be their own boss, they also point to two small faces smeared with strawberries as their main driver. 
"I want our kids to see this community that's coming together around food and talking about sustainable food and how important that is," Jamie said. "I want them to know that this hard work means something."