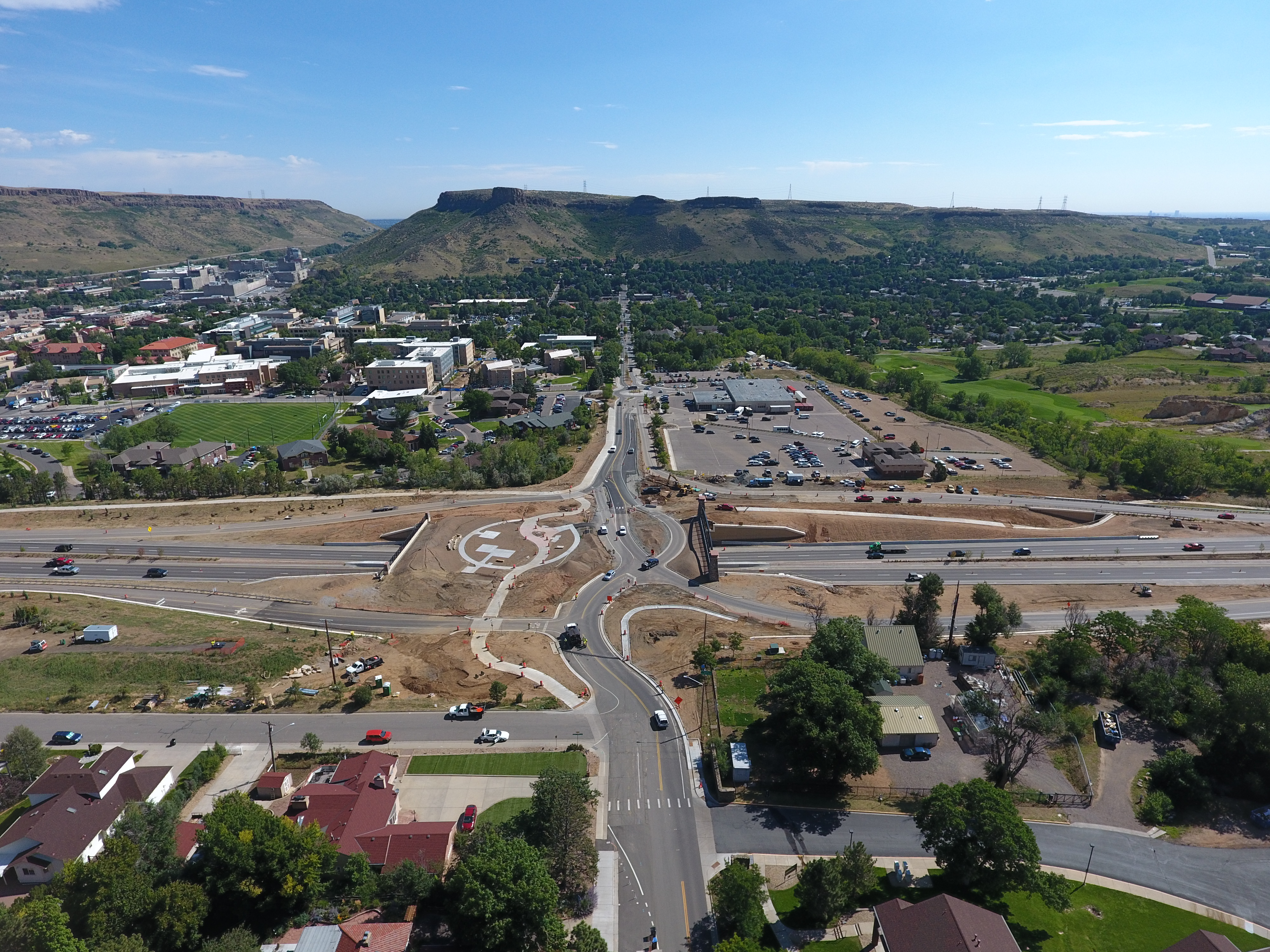 When James Sapegin moved into Mines Park his sophomore year, the walk to class wasn't a particularly inviting one.
Standing between the apartment complex and main Colorado School of Mines campus were four lanes of cars zipping by at 50-60 miles per hour -- which pedestrians and cyclists had to cross at grade.
Things look a lot different today, thanks to a recently completed $25 million infrastructure project that lowered U.S. 6 below 19th Street and created a parkland "lid" with paved trails, park space and a small amphitheater at one of the main entrances to the Mines campus.
"In terms of safety, it has definitely gotten better," said Sapegin, a senior studying biochemical engineering and a community director at Mines Park. "And now we don't have to wait for a light there -- it takes off at least 3-5 minutes depending on when you get there."
Mines' connections to the major infrastructure project, though, go beyond current and future students and the school's $1 million contribution to the improvements. 
Eight Mines alumni worked on the new interchange as engineers and project managers for the Colorado Department of Transportation, general contractor Kraemer North America, civil engineering firm IMEG and subcontractor HTM Construction.
"I never lived in Mines Park but it was so cool being able to go back and have a positive impact on the school," said Neil Ogden '08, a CDOT project manager involved in the design phase. "It was great."
In Colorado, it's actually not that unusual for there to be multiple Mines graduates on major infrastructure projects, said Mike McNish '03, project manager for Kraemer North America, which specializes in heavy highway construction.
But this one was special, given the tie to their alma mater.
"When we originally got this project, at least within our company, all of our Mines grads, myself included, had a desire to be a part of this project because the School of Mines and the city of Golden meant so much to us," McNish said. "We wanted to put our stamp on something that improves the school and community."
McNish was involved in the project's design phase, working with the city, CDOT and Mines to get the project in budget, address constructability concerns and come up with a plan for construction phasing. Funding for the project came from all three public entities.
Kraemer also sponsored two Mines Senior Design projects during the design phase, one where students analyzed some of the drainage and water quality features and another looking specifically at the bridge design.
"When I was in school, Senior Design was one of the most valuable classes that really helped me prep for my professional career," said McNish, who studied civil engineering at Mines. "Being able to go back and from a different perspective, from a client side, and help guide students on what industry and the real world is really like was a really rewarding experience."
Nathan Corbin '98, also a project manager at Kraemer, said he continues to rely on the problem-solving skills he gained during his time at Mines. 
"Mines does a great job of building a foundation for the future engineers of the world," said Corbin, who studied chemical and petroleum engineering at Mines before choosing to pursue a career in the construction industry. "It's really that foundation and the general problem-solving skills that you get in those first few years in Mines, along with the work ethic they instill – I rely on that and leverage that more than anything else, just the ability to work through an open-ended problem, working in a team setting and really just putting your head down and doing what it takes to solve the problem." 
Corbin served as project manager for Kraemer during the construction phase of the project, which he described as "full of little challenges that were really fun to overcome."
Among them were creating a work zone that allowed them to build a bridge in a single phase and constructing the soil nail walls to lower U.S. 6 by 24 feet. Then there was the bridge itself, which had to support not only vehicle traffic but irrigated parkland with drainage and waterproofing systems designed to keep that water out of the girders below. 
It is a unique design not only for Golden but the state of Colorado, said Ogden, who studied civil engineering at Mines. 
"The lid concept is something CDOT has not done before but it's something we're working on for the I-70 Central project," he said. "Just the structural challenges were very, very interesting, both in terms of the loading and the utilities up top, some of things you don't think about – all that landscaping weighs a lot and then you have to water that stuff. They're all different challenges."
Having Mines students walking through the job site every day while they tackled those challenges was pretty fun, too, Corbin said. 
"We ended up hiring a new grad who worked on the project for the last year," he said. "It was a real pleasure to get to be a part of that generation again and be reminded of how smart and driven and focused they all really are."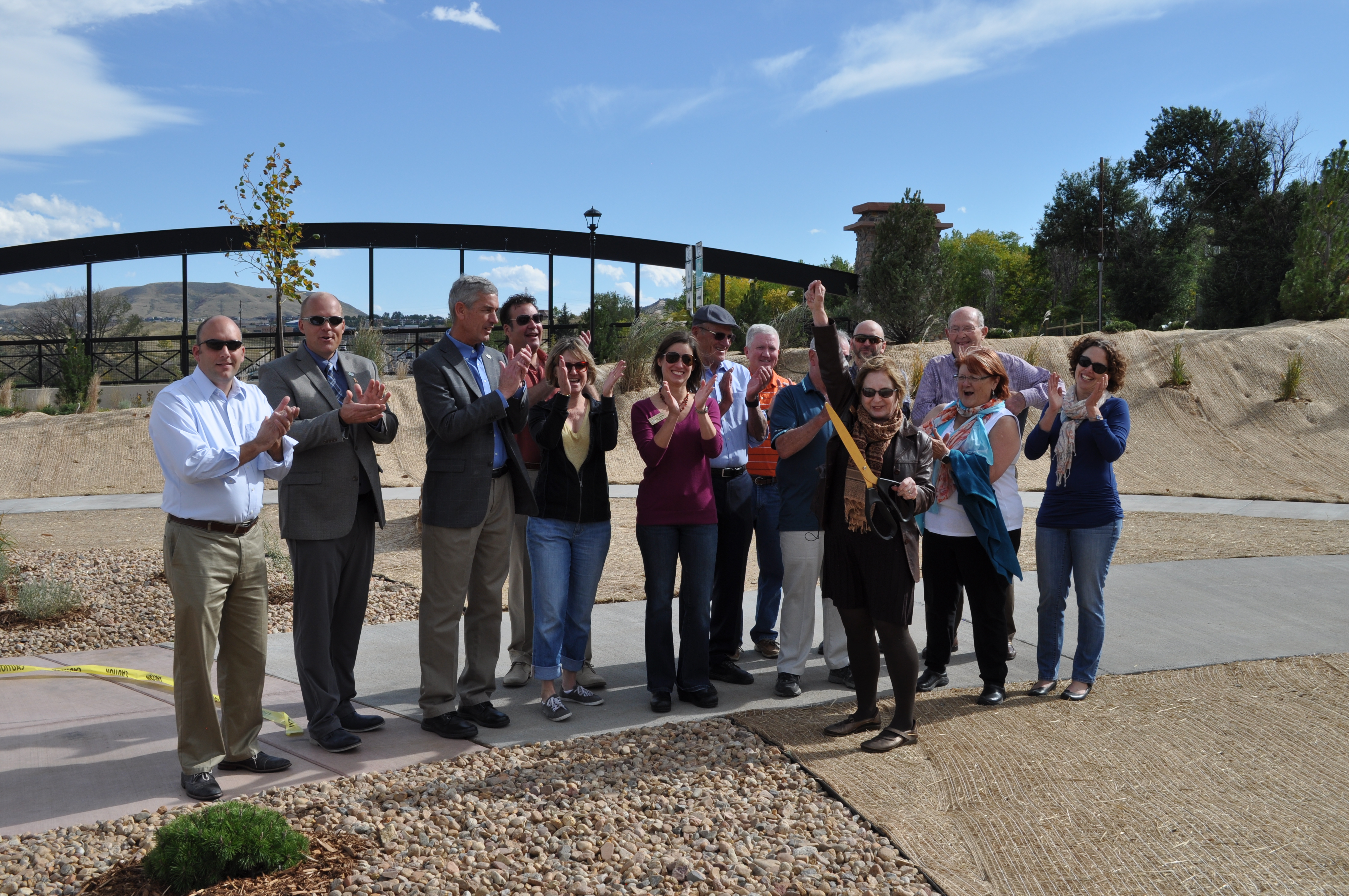 Photo credit: City of Golden
CONTACT
Emilie Rusch, Public Information Specialist, Communications and Marketing | 303-273-3361 | erusch@mines.edu
Mark Ramirez, Managing Editor, Communications and Marketing | 303-273-3088 | ramirez@mines.edu