Mines alum uses Fulbright scholarship to study impact of built environment
"I really wanted to explore how the things we build and design impact the people they are actually made for," Peyton Gibson said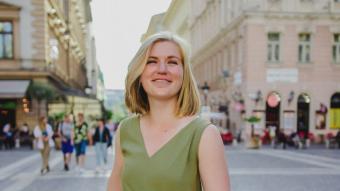 By Ashley Piccone, Special to Mines Magazine
Like countless people in 2020, Peyton Gibson '17 felt locked away and stifled by the COVID-19 pandemic. But unlike many others, she harnessed those emotions and poured them into a lengthy and arduous application: a scholarship for the Fulbright Program, the U.S. government's flagship international educational exchange program.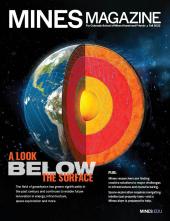 Gibson's interest in the prestigious program came when her Mines background and passions collided. As a Mines student, she studied civil engineering and led a chapter of the American Society of Civil Engineers. Afterwards, Gibson worked at the National Academies of Sciences, where she contributed to a broad range of built-environment policy projects. 
"I was pretty familiar with the technical side of things because of my time at Mines," she said. "But I was also working with a lot of economists, which got me interested in studying how both economics and engineering can be used to build a better world."
In April 2021, Gibson was awarded the Fulbright scholarship to study at Vrije Universiteit Amsterdam in the Netherlands. She handpicked the institution because of its spatial economics program, which uses data analytics and econometrics to understand how where people live and work affects the quality of their lives.
"I really wanted to explore how the things we build and design impact the people they are actually made for," said Gibson. "I originally wanted to study civil engineering because I wanted to give everyone a chance to thrive in a livable community. I think the U.S. has a long way to go, in terms of building communities that create good health, socioeconomic and environmental outcomes."
Gibson moved to the Netherlands in August 2021, meeting students from across the world and learning to consider viewpoints stemming from different cultural experiences. The Netherland's stellar infrastructure, with the ability to bike or take a train almost anywhere in the country, proved ideal for Gibson's research and taught her how to evaluate what is working and what can be improved. 
"The way the Dutch are collecting data—the government organizations they have put together to analyze the data of the policies that they are implementing—those are things I think the U.S. should strive to do," she said. 
Gibson defended her master's thesis in August 2022, but for now, she remains in Amsterdam working as a consultant for Autodesk, a company focused on design and make technology. As one of their newest employees, Gibson is working on creating a social impact service that will allow customers to measure the ways their infrastructure they build and design affects the communities around them.
But if she's learned anything during her time abroad, it's to keep plans fluid and open to new possibilities—both in terms of the built environment and in her personal life.
"If I look at my journal entries from five years ago, I remember making a two-year plan, five-year plan, 10-year plan," she said. "Those are great to have, but I don't think I could cross anything out. I've learned to keep my mind open and be willing to go for new opportunities."