For Mines alum, leadership extends beyond technical expertise, people management
Josh Dickerson '12 is a senior project engineer and founding member of Justice, Equity, Diversity and Inclusion (JEDI) Committee at Martin/Martin
Becoming a successful engineer often doesn't come without a lot of encouragement and support, whether that's from family and friends, colleagues, professional groups and societies, or a combination of sources. For Josh Dickerson '12, a senior project engineer at civil and structural consulting engineering firm Martin/Martin, that external support was instrumental in helping him find a path into engineering and ultimately thrive in his career.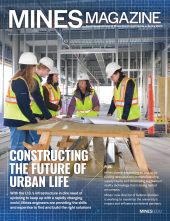 Dickerson was first introduced to engineering through outreach programs and summer camps a teacher enrolled him in as a child—including one at Mines. He not only learned basic engineering concepts but was introduced to real-life engineers who volunteered their time to teach kids about the profession. He got to see the impact of engineers' work and the stability of their careers, and he was inspired and encouraged to pursue that for himself. 
Since earning his environmental engineering degree from Mines, Dickerson has been involved in several high-profile projects in Denver, including being a project engineer on the City Park Golf Course's redesign and working on the hydrologic modeling for the 16th Street Mall redesign in downtown Denver. In recognition for his technical work and community leadership, he was named the 2022 Young Professional of the Year by the American Council of Engineering Companies of Colorado.
We recently sat down with Dickerson to gain some of his insights into how to be an effective leader, building inclusive communities in the workplace and the importance of supporting the next generation of engineers. Here are some of our takeaways.
Communication is key to leading projects—especially those that involve many different stakeholders.
For Dickerson, being a good leader means being able to clearly communicate ideas and needs, something he's experienced when working on complex projects with many different moving parts. 
"Engineering projects are completed by people from many different backgrounds with different goals and ways of thinking. Between clients, contractors, engineers and architects, it's easy to miscommunicate, which often leads to mistakes and broken trust," he said. "I've found the best approach is to try and be patient, overcommunicate and believe the best in others. This means if there is something wrong, try and talk to the people who are responsible and figure out why it happened and how to solve the problem rather than jumping to conclusions or blaming."
Leadership extends beyond technical experience and managing people. Good leaders also build inclusive and diverse communities in the workplace and make people feel valued.
While effective communication is important when collaborating on projects and working with different groups, it's also important to carry that through to employees and create a sense of community within a company—and that includes recruiting new employees from diverse backgrounds to retaining them after being hired.
"When I was a student at Mines, there were not many consulting companies marketing directly to students from underrepresented backgrounds," Dickerson said. "Over the last few years, we have made significant progress at our company. There are a lot of really great, talented students who haven't thought about working in consulting engineering. Our industry is missing out unless we are able to welcome these students into our profession."
But other than hiring top talent, investing in talent from a broader applicant pool also signals to your existing employees that their experiences and backgrounds are valued.
"If you're the only one of something—if you're the only woman or you're the only African American—you feel a lot more pressure, and it's harder to feel comfortable enough to be yourself and give your best," Dickerson said.
Dickerson is one of the founding members and former chair of the Justice, Equity, Diversity and Inclusion (JEDI) Committee at Martin/Martin. The committee hosts numerous diversity recruiting events, mentors high school interns from underrepresented backgrounds and has even sponsored a refugee family from Afghanistan.
In this way, companies like Martin/Martin are building a sense of connection. "We're a part of the community, and if we make it better, it will be better for us," Dickerson said.
Dickerson remembers how essential mentorship was for him, and he's determined to pay that forward and encourage others to pursue engineering or become the best versions of themselves.
Since he first started out in his career, Dickerson has made a point to give back and volunteer with organizations that help young people gain the skills and opportunities to succeed later in life—similar to how he was supported through mentorship growing up when engineering didn't seem like an attainable path. He has been involved in mentoring programs, tutored students and volunteered on councils to make spaces like churches be more welcoming and inclusive for people from all backgrounds.
"So many people invested in me, and I know that I couldn't have gotten here without them," Dickerson said. "That's kind of my mission outside of just doing good work—to invest in the next generation."