For this Mines alum, it really is rocket science
Paul Anderson '85 has worked on countless high-profile, high-impact aerospace projects over the last 37 years at Lockheed Martin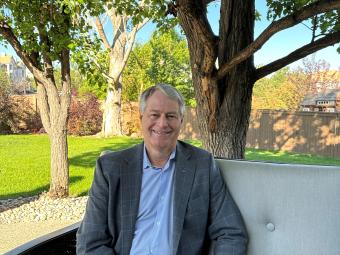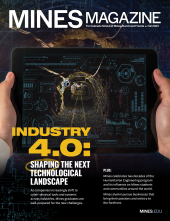 By Sarah Kuta, Special to Mines Newsroom
Since childhood, Paul Anderson '85 has never been afraid of a challenge. It's a character trait that propelled him to success on the basketball court and the golf course as a two-sport athlete at Mines, while also earning top grades in his classes. It's also helped him excel in his decades-long career in aerospace engineering, a complex and ever-evolving field that's become an important piece of Colorado's economy in recent decades.
Over the last 37 years at Lockheed Martin, he's worked on countless high-profile, high-impact projects – ranging from the Orion Artemis II mission, which aims to return astronauts to the Moon, to the Mars Reconnaissance Orbiter, which is searching for evidence of water on the Red Planet.
"I didn't know anything about space or that it would be a passion of mine until I got into it," said Anderson, who currently serves as the deputy program manager for the Orion program at the company. "I just loved the challenge – that was the underlying thing that made space so attractive to me. I'm very, very competitive, and there's no greater challenge than what we do in the space industry. For people who love challenges, it doesn't get a whole lot harder than this."
As the aerospace industry continues to grow in Colorado and beyond, Anderson is also helping to promote Mines' influence and interest in space exploration through his involvement in the Aerospace Interest Group at Mines. With his leadership and input, Mines continues to make meaningful contributions to the aerospace community. Chief among them? Its graduates, who go on to work for the more than 500 aerospace-related companies in the Centennial State.
"Colorado is the Silicon Valley of aerospace, and Mines has just done an incredible job of adapting as this industry has just exploded," he said.
But aerospace wasn't always so big in Colorado. When Anderson graduated from Mines in the mid-1980s, most students pursued careers in the energy industry – either oil and gas or mining. But, on a whim, he decided to accompany a friend to a weekend job fair, where he had a fateful meeting with a representative from Martin Marietta (now Lockheed Martin). He wasn't especially interested in aerospace engineering at the time, but he was curious and decided to see what the industry was all about.
He's been with the company ever since, working his way up through various roles until he began managing large projects and teams at the company, which is a major prime contractor for NASA, the U.S. Department of Defense and other publicly funded agencies. Though he's been at Lockheed Martin his entire career, Anderson said he's never had a boring day at work.
"Every project is so different, it feels like I've had 25 different jobs," he said. "What I always say is, 'It really is rocket science.' What we do every day, in most cases, has never been done before."
Looking ahead, the next generation of aerospace professionals will continue to solve all sorts of challenges and make new discoveries in space. One big one? Answering the question of whether life exists–or has existed in the past–beyond Earth.
"We will most likely have a definitive answer to that question in the next 20 years," Anderson predicted.
Another key area of growth will be in national defense, since having a military advantage in space is a key enabler for our nation's security. The aerospace industry will also continue to provide up-to-the-minute weather and climate data, which will help inform disaster response and emergency preparedness.
And as it evolves even more, the industry will continue to lean on experts in a wide array of fields, from computer science and electrical engineering to accounting, political science and communications.
"Space truly provides inspiration for everybody," said Anderson. "From the nerdiest engineers to college athletes, business and history majors and artists, it really is for everyone."