Mines alum creates business out of microscopic masterpieces
A geologist by training, Teresa Johnson '10, MS '15 combines science, art and sustainability through the personal and home decor brand Terra Persona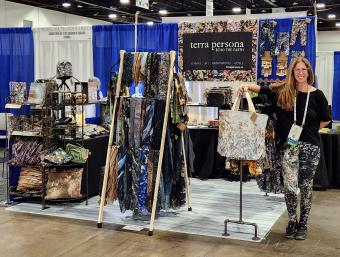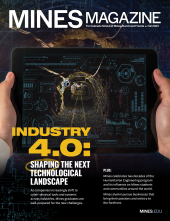 By Ashley Spurgeon, editor of Mines Magazine
If you've ever looked at a rock sample under a microscope, you might think you're looking at an intricate piece of abstract art.
That kaleidoscope of colors and complex crystal structures is exactly what inspired Teresa Johnson '10, MS '15 and Mandi Hutchinson MS '16 to create Terra Persona, a personal and home decor brand that prints microscopic geologic photographs on products such as tote bags, clothing, tea towels and more. Using their geology backgrounds, the pair focused on combining science, art and sustainability to create a brand that both inspires and educates while being environmentally and ethically conscious.
"I love looking at rocks under the microscope," Johnson said. "Then turning it into something artistic filled another need in my life to be creative."
Although Hutchinson left the company in 2019 to focus on her gem and mineral business, Alta Gema, Johnson is still looking down the microscope to find the most interesting images to share with others. We recently sat down with Johnson to learn more about how Terra Persona has evolved since its inception and what Johnson has learned from starting her own business.
Mines Magazine: Where did you start when figuring out how to sell your products?
Teresa Johnson: Originally, we wanted to market this to everybody and were just looking for interesting rocks. Mandi had a background in the gem industry and mineral shows, so we decided to purchase some samples that were more familiar to the gem industry. It was a lot of pieces that people like to make jewelry from. We started going to gem and mineral shows, and people were really interested.
Later, I was able to procure a microscope to take to shows with me, and people were actually able to look at what was underneath the microscope. We could talk about the science aspect of it and why a specimen looks a certain way and the physics of light and how it bends and goes through crystals depending on their shape.
Then we started going to geology conferences, and that is definitely our niche. These are the people who look at the designs and know what they are. I've had people come up to me and say, "Oh, my gosh, is that meteorite NWA 10153 I did research on that rock." And that's just so special. There's more interacting and sharing with other researchers about what they're doing.
MM: What is a challenge you've had to overcome in this process?
Johnson: I wanted the images that are printed to look exactly like it looks under the microscope, which is a bit of a challenge with variations in the microscope's lighting, the software, the camera, the printers. Everybody handles colors differently. It took about a year to get the color down correctly. We wanted to make sure geologists could identify the rock type, the minerals and the textures of everything that was going on.
MM: What was the inspiration for having sustainability be a central part of this company, and how did you go about integrating it into your business practices?
Johnson: We knew we wanted to have quality products. We wanted the people who were making them to be paid fairly. We wanted the materials that were being used to be sourced locally as much as possible.
For the jewelry, I found a great company at the Tucson Gem Show that works with a community in India teaching trades, benefitting the community. One of my favorite companies I'm working with is Knotty Tie. I was able to put our designs on their custom ties. The tie fabric is made from recycled plastic water bottles and feels just like satin. They also have a social responsibility piece where they're working with refugees in Denver to achieve economic self-sufficiency through skills-based employment. It's something that's super important to me, and anytime I can collaborate with a local company or anybody who is trying to do the right thing, I'm going to take advantage of that.
MM: Other than your education as a geologist, how has your Mines background helped you start Terra Persona?
Johnson: I learned how to tackle really hard problems. So much of Mines is dealing with big projects, and this company is like a big project. When it was time for our first release and our website launch, things went completely haywire at about one o'clock in the morning when I thought it was ready to go. One of the software programs we were using made a major change overnight and completely wrecked everything, so I had to stay up all night fixing it to meet our deadline. My Mines education really instilled in me how to really dig in and get things finished on a tight deadline.
MM: What advice do you have for anyone looking to start a similar venture?
Johnson: The first thing I'd recommend is setting up a basic business plan. It doesn't need to be perfect, but it's a good place to start. And then just go for it. I've had so many people come up to me at the geology conferences and say, "Oh, I've always thought about doing this." Even if your idea might not be fresh and new, a lot of people don't take the action of getting it done and taking that step.
Learn more about Terra Persona and see their latest designs at terrapersona.us.