Metallurgical and materials engineering student first at Mines to win selective NOAA scholarship
Emmelia Ashton will intern at a fisheries science center in Seattle after winning the Hollings Scholarship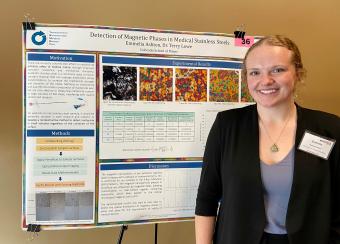 A Colorado School of Mines student has been awarded for the first time the National Oceanic and Atmospheric Administration's Hollings Scholarship, which provides a two-year academic scholarship for students' junior and senior years, funding to attend two national scientific conferences and paid summer internship opportunities.
Emmelia Ashton, a junior majoring in metallurgical and materials engineering, was awarded the scholarship as part of the 2022-2024 Hollings class. She was the only student to win from the state of Colorado this year.
"I'd been looking for a program that's more research focused, because that's one of my career goals and something I'd like to pursue," Ashton said. "I applied thinking they wouldn't select me because I don't have an environmental and ecological background, but it was exciting news when I found out they did. I have been able to do a lot of different kinds of research while at Mines, and I think that helped."
The scholarship provided Ashton the opportunity to spend her summer interning at NOAA's Northwest Fisheries Science Center in Seattle, where she'll be working on computational modeling and data analysis on salmon mortality in the Pacific Northwest.
One question the research team there has been exploring is how copper pollution from automobile brake pads enters waterways and affects the salmon's osmotic senses, which help the fish return to spawning areas.
"I'm really passionate about materials science," Ashton said. "There's a lot of different applications and there's a lot of different effects on humans and the environment and the economy. I'm really excited to explore more into how the materials we use affect the environment and ecosystems that surround us."
While in Seattle, she'll also be assisting in other research initiatives at the science center that look at different animal populations in Puget Sound and Olympic National Park.
At Mines, Ashton has been able to take part in several different research opportunities. She's been conducting research since her first year at Mines, having taken part in the First-Year Innovation and Research Scholar Training (FIRST) Fellowship. Ashton was also part of the Summer Undergraduate Research Fellowship, which funds undergraduate students in concentrated, full-time research opportunities with Mines faculty over the summer, and serves as an Undergraduate Research Ambassador.
"I work directly with Lakshmi Krishna, Director of Undergraduate Research, to try to help other students become involved in research," she said. "I think that networking with other researchers has been a really valuable experience for me and gave me confidence to pursue things outside of my comfort zone. I have the support system at Mines to be able to do things like that."
Much of the research Ashton has taken part in at Mines has been through the Transdisciplinary Nanostructured Materials Research Team, with mentorship from Metallurgical and Materials Engineering Research Professor Terry Lowe. Because of the transdisciplinary nature of Lowe's research group, she's had a good amount of experience working on collaborative projects that cover multiple research areas.
"I think my transdisciplinary experience is one of the main reasons that I was selected for the Hollings Scholarship," Ashton said. "Being able to learn from other disciplines, I feel that just makes someone a better researcher, a better engineer, and I'm really glad I've had that opportunity."