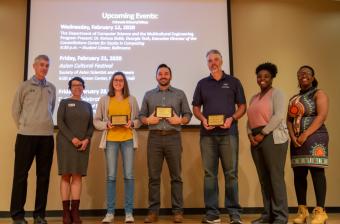 Three Colorado School of Mines community members were honored for their work to encourage diversity and inclusion on campus at a luncheon Jan. 21.
Receiving the 2020 Martin Luther King Jr. Recognition Awards were:
Taryn Tucker, a junior majoring in mechanical engineering
Kyle Castro, Scholar Programs Coordinator in Admissions
Andres Guerra, Teaching Associate Professor of Civil and Environmental Engineering
Recipients of the annual awards are nominated by Mines faculty, staff and students in recognition of efforts to develop innovative programs or policies that enhance diversity on campus, contributions to fostering understanding and respect for diversity within the campus community, and commitment to a philosophy of inclusion by initiating interactions between people of different backgrounds.
Tucker was honored for her work to develop Girls on the Rise, a new program designed to enhance diversity, equity and access to STEM. The inaugural event last September welcomed nearly 100 middle school girls to the Mines campus for a day of fun hands-on STEM activities, including making your own coloring robot.
Tucker, vice president of outreach for the Mines section of the Society of Women Engineers, will serve as president for the 2020-2021 academic year. She also serves as a board member for the Mines student chapter of the American Institute of Aeronautics and Astronautics and is working to start a new student group called Women of Aeronautics and Astronautics.
Castro was recognized for his dedication to students from backgrounds historically underrepresented in STEM, including his ongoing commitment to Challenge, the Multicultural Engineering Program's summer academic transitional program, and his work on the new First@Mines program, which aims to provide support and resources to more than 250 Mines students who are the first in their families to attend college.
A first-generation college student himself, Castro also serves as the chair of the Mines Latinx Community Alliance, which advances the understanding and inclusion of Mines employees, particularly those in the Latinx community.
Guerra was honored for his long-time service as faculty advisor to the Mines chapter of the Society of Hispanic Professional Engineers (SHPE). The chapter's faculty advisor since 2012, Guerra has mentored and worked closely with nearly 100 student executive board members, doubled the number of Mines students able to attend the SHPE national conference by working with companies and students to secure travel funding, and even helped a local high school start its own junior chapter.
"Dre understands that even an hourlong interaction with a faculty member can change the perspective of diverse college students from underrepresented groups (in engineering), and their understanding of opportunities at Mines," the nomination letter reads. "Dre often spends an entire day with a prospect student, making a tremendous positive impact on their outlooks and potential for success."
Following the awards presentation was a keynote speech from Shawn Bosley, a student at CU Denver and founder of the nonprofit Feed the Streets, which is working to combat the epidemic of homelessness in the Denver metro area and beyond.