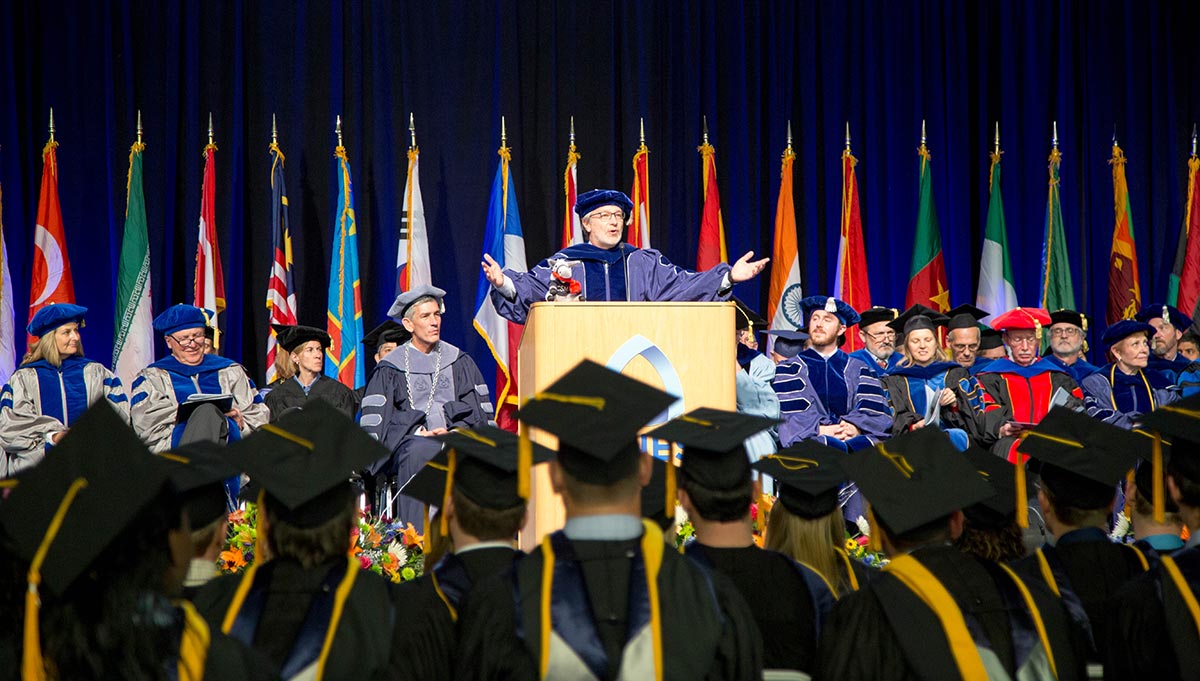 Keynote speaker Martin Keller, director of the National Renewable Energy Lab, addresses the graduates during the 2016 Midyear Graduate Commencement Ceremony. 
On December 16, 2016, 195 bachelor's students, 134 master's students and 47 doctoral students will walk across the Lockridge Arena stage and shake President Paul C. Johnson's hand, a symbolic gesture representing the end of one era and the beginning of another. As graduation draws near, we took a moment to reflect on how Mines has influenced its graduating seniors. In all, 213 bachelor's and 181 master's and doctoral students will earn their degrees from Colorado School of Mines this month. 
As the end of the semester wraps up and students finish their last round of final exams, we asked soon-to-be graduates what they will remember most about Mines and how their time here has shaped them. "Mines taught me to work my hardest," said metallurgical and materials engineering student Mitchell Hopper. Mines without a doubt provided a challenging education for soon-to-be graduates, "but the feeling of success and reward you get when you finish a problem you thought was impossible is the best feeling in the world," said Kerry McQuaid, also a metallurgical and materials engineering student.
Whether coming together to express their Oredigger pride during Homecoming or study for finals, each Mines student has had a unique experience. "My most memorable experience at Mines was watching the E-Days fireworks," said McQuaid. "That's when the fact that I was in college at a school I really love solidified for me." For some students, Mines was a home away from home, a place where one felt included and comfortable.
Mines graduates will take with them more than just the unforgettable memories or a superior knowledge of math and science. "Mines has allowed me to see just how many possible paths to success exist," said civil engineering student Claire Mahoney. "Engineering education is really just learning how to learn." Mines fosters an environment for students to grow and expand their ideas, enabling countless students to feel prepared to join the workforce. As a result, many employers share the belief that Mines graduates are more effective team players due to their tendency to be collaborative rather than competitive.
Most graduates have a clear picture of their goals for the future. Logan Woish, a metallurgical and materials engineering student, said he wanted to "be involved in developing and characterizing materials systems for 3D-printed foams for application in sports helmets and blast protection." And some students are just excited to be out in the world. Samuel Drescher, a mechanical engineering student, is most looking forward to traveling after graduation. "I am ready to graduate," he said. "But I would have told you that freshman year too."
No matter what graduates do once they leave, Mines will stay in the heart of each and every Oredigger. Good luck to the graduating class of 2016. Go Orediggers!
Check out the video below of the Class of Fall 2016 Orediggers reflecting on their time at Mines, and sharing their plans for the journey ahead.
Student Awards and Recognitions
Every commencement, a select number of graduates are recognized for their achievements in service, scholarship and activities.
Outstanding undergraduate seniors for the 2016 Midyear Commencement are:
Derek Smith, Computational and Applied Mathematics
Elliott Gordon, Civil and Environmental Engineering
Jason Loving, Chemistry and Geochemistry
Erikka Baker, Computer Science
Patrick Sean Callahan, Economics and Business
Nicholas Joel Markel, Electrical Engineering
John S. Hinton, Geophysics
Kathryn Regas, Mechanical Engineering
Logan Woish, Metallurgical and Materials Engineering
Tyler Rockley, Mining Engineering
Richard Rice, Petroleum Engineering
Marc Valdez, Physics
The 2016 midyear undergraduate commencement awardees and recognized graduates are:
The Charles N. Bell, 1906, Award is presented to Nikky McIntosh for completing a course in mining with the most progress in schoolwork during the entire period for which the course is given.
The Honorable D.W. Brunton Award is presented to Josef Bourgeois for meritorious work in mining.
The Clark B. Carpenter Award is presented to Enkhjin Tumurbaatar and Jacob Tavenner. This award is presented to the outstanding graduating senior(s), who, in the opinion of the seniors in mining and metallurgy and the professors in charge of the respective departments, is the most deserving of this award.
The Mary & Charles Cavanaugh Award is presented to Mason Woish in metallurgy and determined by scholarship, professional activity and participation in school activities.
The Computer Science Outstanding Undergraduate Researcher is presented to Daniel Mawhirter.
The Computer Science Faculty Choice Award is presented to Trevor Worth.
The Maryanna Bell Kafadar Award is presented to Christine Pumford for excelling in humanities courses and humanities-related activities.
The H.G. Washburn Award is presented to Stephen Candelaria for good scholastic record in mining and active participation in athletics.
The Materials Engineering Faculty Award is presented to Logan Woish for participating and contributing to campus life and academic achievement and expressing those characteristics of a well-rounded graduate that Mines aspires to develop in its students.
The Physics Faculty Distinguished Graduates are Jacob Wilson and Mollie Murray.
The President's Senior Scholar Athlete Award is presented to Amber Harley and Richard Rice. This award is presented to one female and male athlete with a cumulative grade point average of 3.0 or higher, has lettered in a sport during their senior year and who has demonstrated leadership qualities of an exemplary student-athlete.
The George T. Merideth Award is presented to Brandon S. Clayton for demonstrating early leadership potential in the field of Geophysical Engineering.
The Harvey Scholars Program recognizes Mollie Murray and Kylen McClintock.
The Guy T. McBride Honors Program in Public Affairs recognizes Christine Pumford and Caleb Clough. This program allows students to explore the interfaces between their areas of technical expertise and the humanities and social sciences resulting in a minor in public affairs with the honors distinction.
Blue Key recognizes Joshua Reed and Jacob Wilson as students with achievements in service, scholarship and activities.
The Order of the Omega recognizes Christine Pumford for outstanding leadership in fraternity and sorority systems.
Ye Liu is recognized as the outstanding chemical and biological engineering student.
Heidi M. Logsdon, Jason A. Loving and Steven D. Mohan will be commissioned as Second Lieutenants in the United States Air Force.
Patrick S. Callahan will be commissioned as Second Lieutenant in the United States Army.
The 2016 midyear commencement master's and doctoral student awardees are:
The Dr. Bhakta Rath and Sushama Rath Research Award was presented to Rui Zhao who is graduating with a doctoral degree in computer science. The Rath award recognizes a Colorado School of Mines doctoral graduate whose thesis demonstrates the greatest potential for societal impact. Read more about Rui Zhao's work and award.
Rath Award finalists were: Kevin Albrecht (Mechanical Engineering), Ali Moradi (Civil and Environmental Engineering), Whitney Poling (Metallurgical and Materials Engineering), Adam Stokes (Materials Science), Michael Teter (Operations Research with Engineering).
The Mendenhall prize is awarded to Yuting Duan from the Geophysics Department to its outstanding PhD graduate.
Undergraduate Ceremony Video
Photos