Mines' Kappa Sigma wins Founders' Award of Chapter Excellence
Only 30 chapters in U.S. and Canada received prestigious national award in 2020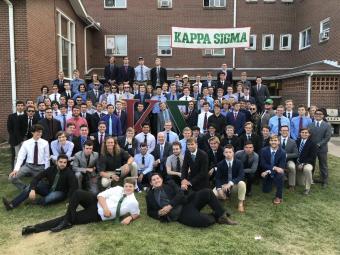 The Kappa Sigma chapter at Colorado School of Mines has been awarded the Founders' Award of Chapter Excellence as one of the fraternity's top chapters in North America.
The Founders' Award of Chapter Excellence is the benchmark award in the Kappa Sigma Fraternity, recognizing outstanding chapter management, achievement and program development in all areas of operation. Only 30 chapters received the award in 2020.
Chartered at Mines in 1904 by eight men, the Gamma Gamma chapter of Kappa Sigma had 101 members during the 2019-2020 academic year and counted among its many achievements during the year:
More than 7,800 hours of community service
More than $56,000 contributed to charitable causes
More than $2,400 raised for the Kappa Sigma Military Heroes Campaign, which is committed to supporting ongoing care for our military veterans and their families.
More than $4,700 raised for its Kappa Sigma Endowment Fund Chapter Scholarship Fund, which provides scholarships to chapter members based upon academic achievement, campus involvement and leadership within Kappa Sigma
"Receiving the Founder's Award for Chapter Excellence recognizes our chapter as one of Kappa Sigma's elite chapters across the continent. This distinguished award reflects our commitment to assisting the Mines community and our strength in leadership, philanthropy and service as an organization," said Chapter President Dan Topham, a metallurgical and materials engineering major. "I couldn't be more proud of the men of the chapter and the integrity that each one of them exhibits on a daily basis."
Chapter members are active in the Mines Peer Mentor Program and Oredigger Camp, Topham said. This spring, they also helped to provide 3D-printed face shields for health care workers at testing stations at local hospitals across the Denver metro area.
"We worked with the BecauseWeCan Foundation to produce more than 300 3D-printed face shields and also raise additional funding to support the foundation," Topham said.
The largest college social fraternity in the world, Kappa Sigma has more than 200,000 living members, including over 17,000 undergraduates and 300 chapters and colonies located in the U.S. and Canada.