Jemison named Homecoming Distinguished Lecturer
Mae C. Jemison, the first woman of color in space, will be the Colorado School of Mines 2019 Homecoming Distinguished Lecturer on Thursday, October 17.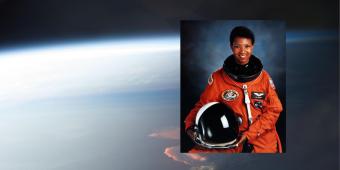 Jemison blasted into orbit aboard the space shuttle Endeavour, September 12, 1992. Now, founder and president of two technology companies, the space flight was just one of a series of accomplishments for her.
Born in Decatur, Alabama, and raised in Chicago, Jemison entered Stanford University at the age of 16 on a scholarship. She graduated with a bachelor's degree in chemical engineering and fulfilled the requirements for a bachelor of arts degree in African and Afro-American studies. She earned her doctorate in medicine at Cornell University Medical College. Prior to joining NASA in 1987, Jemison worked in both engineering and medicine. She was a general practitioner in Los Angeles and then spent two and a half years as an area Peace Corps medical officer for Sierra Leone and Liberia.
Jemison served as a NASA astronaut for six years. As the science mission specialist on the STS-47 Spacelab J flight, a U.S./Japan joint mission, she conducted experiments in life sciences, material sciences and was a co-investigator of the bone cell research experiment.
Homecoming at Mines will take place October 17-19. Tickets to the lecture will be available for faculty, staff and students at mines.edu/tickets beginning in September. Alumni registration will open on July 8.
More information and a full itinerary of Homecoming events for students can be found on the Mines Activities Council website.
CONTACT
Anica Wong, Communications Specialist, Colorado School of Mines Foundation | 303-273-3904 | acwong@mines.edu
Joe DelNero, Digital Media and Communications Manager, Communications and Marketing | 303-273-3326 | jdelnero@mines.edu