Introducing the new Mines Newsroom
The new-and-improved site features a fully responsive design, dynamic photo and video display and more.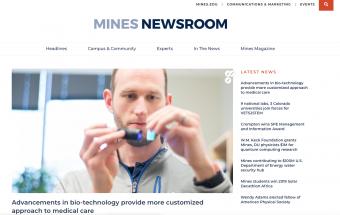 The Colorado School of Mines Communications & Marketing Office is proud to present the new Mines Newsroom.
Starting today, your go-to source for university news has a sharp new look and improved features that truly reflect the exciting, dynamic place that Mines is today.
Among the new and updated features:
Fully responsive design: On your phone? No problem. A tablet? We've got you. A 32-inch desktop monitor? Same goes. Mines Newsroom will now work wherever or whenever you choose.
Improved photo and video display: We all know the Mines campus is beautiful. Now our news content will better showcase that, too, with a layout optimized for photos and videos.
Mines in the News: Local, national and international news outlets turn to Mines faculty members every day for their unique expertise. Now, you're just one click away from the latest external news stories, whether they appeared in Forbes Magazine or Denver's 9News.
Humans of Mines: This new, more robust Q&A feature will feature students, staff, faculty and alumni in their own words. Share your own reflections via our online form at www.mines.edu/humans.
Expert Guide: Coming soon is a searchable, sortable guide of Mines media experts, with the goal of making it easier for reporters around the world to find the right (Mines) expert for their story.
"There's no shortage of good news to share—whether we're touting our students' accomplishments, our faculty's scholarship or our alumni's engagement," Chief Marketing Officer Jason Hughes said. "The new Mines Newsroom helps us better showcase our community's amazing accomplishments and extend our collective work to make Mines the top-of-mind, first-choice university for students, faculty and industry partners."