Humanitarian Engineering students co-create with communities in Colombia on topic of urban recycling
Spring Break trip gave Mines students the opportunity to shore up technical, social engineering skills in partnership with local community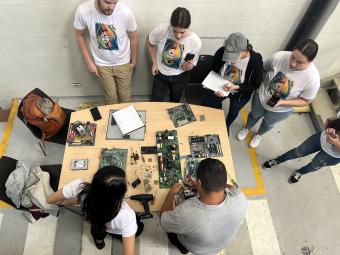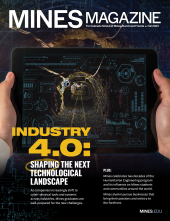 By Eric Butterman, Special to Mines Magazine
Many college students spend their spring break relaxing on sunny beaches or engaging in activities far from an academic atmosphere. But for Mines' Humanitarian Engineering students, they opt for a week of community-led projects to shore up their technical and social engineering skills.
Humanitarian Engineering students have opportunities to work with local communities around the world to identify and solve engineering challenges. But the students don't go in with fix-it-fast ideas or a "we know it all" attitude. Instead, they partner with local stakeholders to find practical, sustainable solutions that empower and respect the affected communities. Students are not only able to practice technical skills but are also able to learn from the communities they are supporting and understand the value of engaging local stakeholders in these projects.
Take, for instance, the e-waste recycling project in Bogotá, Colombia, that a Mines team helped with in March 2023. Instead of simply visiting with a local community during the week-long trip, Mines students actually worked with community members long before they ever set foot in the country.
"A community-supporting organization in Colombia called DIVERSA connected us to people who were recycling electronic waste to earn a living," said Juan Lucena, director of the Humanitarian Engineering undergraduate program at Mines. "This relationship with students and community members began long before they were ever going to make a trip to Colombia. Months before, they started regularly engaging in calls to hear from the community about the challenges to their work, how they live and understanding where they are coming from in terms of why they are doing this. By the time students met them in person, there was a real connection. This is one of the central tenets of our program: learn as much about the people you are serving before you even define the problem."
Emily Robinson '23, who worked on the project as a student, explained that they were focused on two key goals: understanding the technical challenges of e-waste recycling and understanding the people behind the work.
"We had on our list to do some prototyping and experimenting and meet with people who collected plastic sources to break down from electronic waste for computer monitors and keyboards," she said. "Another goal was to spend a lot of time asking questions and making sure we understood their processes and whether the strategies we mentioned would be useful for them to implement into their process. We spent probably two-thirds of our time that week just talking to people and asking questions to understand their process from start to finish: from when electronic waste entered their warehouse to when the buyers decided what they wanted to buy and how they broke it all down."
Robinson's experience reflects another key feature of humanitarian engineering: deep listening to understand how technology fits in people's lives.
Robinson said the experience was incredibly helpful to her team, and they were surprised by how much they learned in just a few days after a whole semester of meeting virtually with the recyclers. "It was a very valuable information exchange, and we also made sure to do prototyping with some of the recyclers to give them firsthand experience if those tests were going to be used and where they could give us feedback on that," she said.
Humanitarian Engineering graduate student Jaime Styer also worked in Colombia to create a workshop on recycling construction and demolition waste in 2023. She said engagement with the community you are working with is critical, as engineering solutions missing this are often unsustainable and can even cause harm.
"The community doesn't feel any ownership in the solution without engagement," Styer said. "They have been isolated instead of being partnered with. It makes it that much harder for the next engineers who would like to come in and work together with them."
Styer's workshop embodies yet another principle of humanitarian engineering: empowering communities by giving them voice and a seat at the table as they have much to offer to make projects sustainable in the long term.
Lucena saw eye-opening results for students in many ways from the project. "In the U.S., we're used to private, for-profit recycling trucks picking up our garbage," he said. "In Colombia, it's individual trash collectors who are picking up those used monitors and keyboards to help get money to eat. Most of these people are 'invisible' to society. It was important for students to learn how they live and work and the struggles they face on a daily basis."
Lucena said the communities Mines partners with, in part, co-create and are empowered through shared problem-definition and problem-solving with Mines engineers. And at the end, the solution is more socially just because it came from two sides that respected the other's way of life and two groups who wanted to truly learn from each other.
"I think the biggest thing I learned from the Colombia work was the importance of building trust," Robinson said. "You could see we had a chance to contribute to make their situation better and hopefully will make it easier for them to feel good about future partnerships like ours. For me, it even improved my communications skills that much more. I'm grateful for them being open and being willing to teach me."