High school teachers train in 3D-printing technology at Mines
Funded by a National Science Foundation grant, a group of local high school teachers spend part of their summer getting hands-on training in additive manufacturing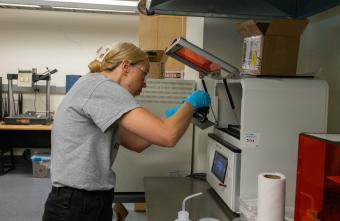 When Ashley Pederson started teaching engineering at Lakewood High School, she had no training on the equipment in the school's 3D printing lab. She had to teach herself how to manage the lab, which isn't uncommon for teachers like her.
"Every STEM teacher I know is self-taught on 3D printers," Pederson said.
Thanks to a grant from the National Science Foundation (NSF), Pederson was part of a cohort of local high school teachers who spent six weeks at Mines this summer learning the ins and outs of additive manufacturing, also known as 3D printing. The teachers worked side-by-side with graduate students – using the same equipment Mines researchers do – so the teachers can bring that knowledge back to their students.
"Here at Mines, we have really advanced equipment, unique capabilities and technologies," said Joy Gockel, associate professor of mechanical engineering. "A big focus of the program was to show additive manufacturing as an industrial manufacturing process that uses a bunch of different materials, like metals and ceramics, and has many different versions of the technologies that you can print with."
Funding came through the NSF's Research Experiences for Teachers in Engineering and Computer Science program. The program funds summer research experiences where teachers can connect with local universities, community colleges, school districts and industry partners to build collaborative relationships.
The cohort at Mines included teachers from Jefferson County, Douglas County, Denver Public and Cherry Creek School Districts.
While on campus, the teachers took part in a range of experiences. Graduate students and faculty from several departments led lectures and hands-on training with the teachers. The teachers were also able to tour some local additive manufacturing companies.
Deb Tawzer, an engineering teacher at Legend High School in Parker, said she took part in the program not only to learn more about her school's 3D printing capabilities, but also to be able to give her students a broader perspective. While Tawzer even teaches an additive manufacturing class at Arapahoe Community College where some of her high school students can receive college credit, she said the Mines program has opened her eyes to what is possible.
"I had no idea I'd learn as much as I did," Tawzer said. "My view and my students' view on additive is limited compared to what it really is. I knew so little, and this has increased what I know by so much."
Gockel said the program accepted a broad range of teachers – from those who have worked with 3D printers for years to those who have no background with additive at all.
"One of the challenges was having teachers with different backgrounds, as well as different student populations," she said. "We made sure the program was flexible in a way that the teachers had an opportunity to really think about their students and what would be most impactful to them."
A tangible benefit to the teachers was taking an industry recognized credentialing test and coming out of the program with the Additive Manufacturing Fundamentals certification from SME. The hope is they'll also be able to take that knowledge back to their home schools and help their students prepare for the test, as well, if they're interested in entering the additive manufacturing job market after high school. For those students who want to enter a university program like the one at Mines, that experience will help them get internships earlier than their peers with the same credentials.
At Lakewood High, Pederson said she has students who know how to design and 3D print projects, but with this experience under her belt, she'll be better able to help them understand the full process that goes into additive manufacturing, as well as what it takes to enter the field after graduation.
"You don't need a four-year degree to get the right training," she said. "I want to be able to help my students hit the job scene running by really understanding the processes that go into a really growing and in-demand field."
The Denver metro area is full of job opportunities in additive, Gockel said.
"Additive manufacturing is one of the technologies that the country is looking at to revitalize American manufacturing and bring manufacturing back to the U.S.," she said. "But we need a workforce to do that, so that's one of the things Mines is really trying to work on. Hopefully, this program will make the teachers more aware of opportunities so they can direct their students into the field."
Along with helping the high school teachers take skills back to the classroom, the NSF-funded program also benefits the Mines graduate students who take part. Because they have been leading the workshops and working with the teachers one-on-one, they're able to improve their ability to explain the concepts they're researching to an audience who might not have a deep knowledge of the subject. Some even have plans to continue the new relationships – one graduate student will be visiting with a high school robotics club.
"Our goal is to have an understanding of where the teachers are at with their knowledge of additive manufacturing and bridging that gap," said Tim Pickle, a PhD student in metallurgical engineering. "We get to see what they're teaching and help with their curriculum development."
NSF funding covers three years of the program, and Gockel said recruitment for teachers to join the program next summer is already beginning. The idea is to build on the program each year, so the teachers who take part next year will expand on what this year's teachers learned and the curriculum that they developed. Gockel said there are also plans to bring in students from the teachers' classes and hold a design competition at Mines.
"The ultimate goal is to have the high school students print on the advanced metal 3D printers here at Mines, so they can see how the prototype they create on plastic printers at school can then become a more finalized, metal part that is very strong and very industrial," Gockel said.