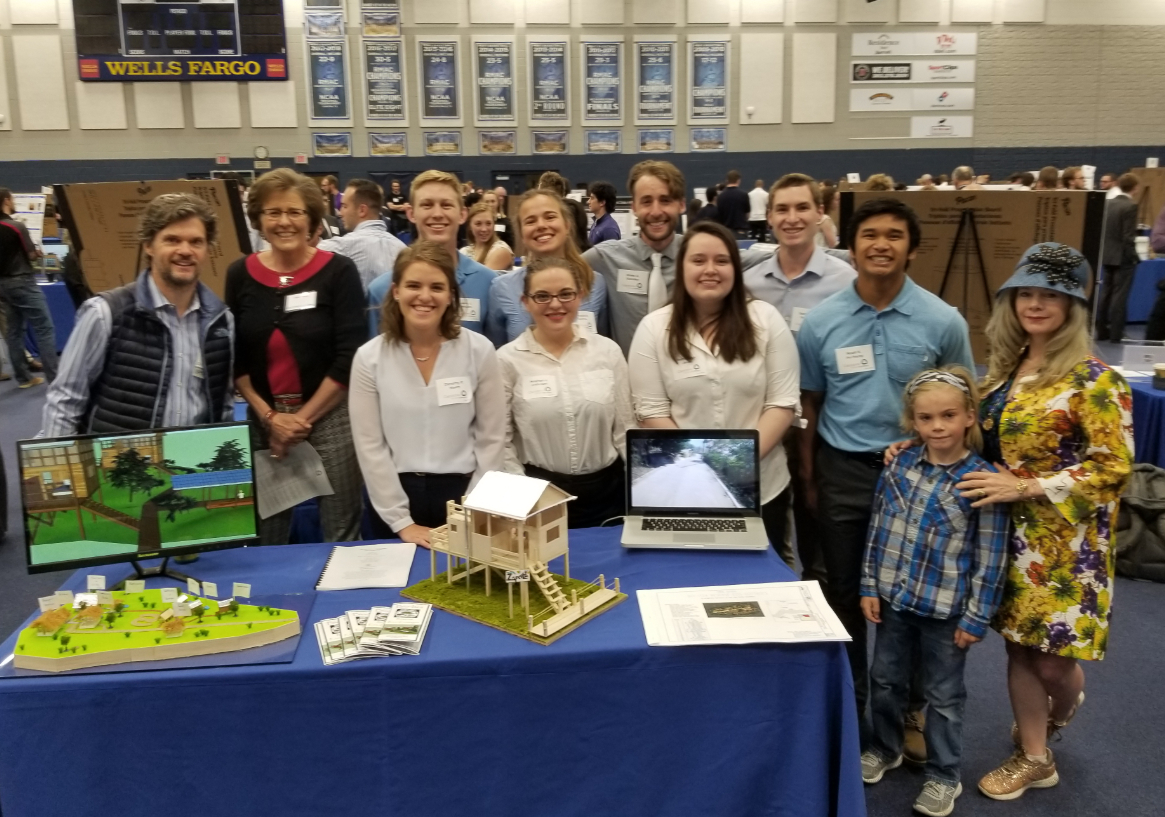 A self-sustaining eco-village that would help generate sustainable income for the Maya-Itzá community in Guatemala was named the winner of the Spring 2019 Capstone Design Showcase.
The Bio-Itzá Eco Cottages team worked directly with the local community and Bio-Itzá "Preserve the Source" Fund to design and model the eco-village, traveling to Guatemala to meet with community stakeholders and ensure the final design represented the community's goals for conservation of the indigenous Itzá culture and the local environment. 
The design addresses water, power and guest accommodations, including three new cottages with rain catchment and off-grid power systems, a retrofit of an existing structure, a new storage structure to house the power system and a pavilion for medicinal plant workshops. 
Forming the winning team were Meghan Anderson, Noah Au-Yeung, Lukas Erickson, Maggie Guinta, Rebecca Jewell, Spencer Schrandt, Blake Standley and Dot Walch.
Second place went to the Accessible Welding Table, sponsored by Craig Hospital. The adjustable-height welding bench can accommodate a wide range of accessibility needs, including manual and powered wheelchair users and full paraplegics with limited trunk stability. Team members were Brennan King, Drewe Lee, Weston Stong and Wyatt Kinion.
Third place went to Tall Wood Building – Shake & Bake, for the complete design of a 10-story building composed entirely of cross-laminated timber and glulam timber to be constructed on a shake table for seismic research. Sponsoring the project was Civil and Environmental Engineering Assistant Professor Shiling Pei. Team members were Daniel McGettigan, Jack Martin-Linsley, Aleesha Busch, Ian Turner, Katie Christy and Jared Phillips. 
Projects were also recognized for their innovation, societal impact, proof of concept and professionalism.
Best of Award for Innovation: NASA Robotic Mining Competition, sponsored by the Mines Center for Space Resources
Team members: Gavin Baird, Luke Bowersox, Ben Burckel, Jacob Drozdowicz, John Fuller, Carlita Gorham, Adam Marcinkowski, Colby Moxham, Lewis Setter, Zach Trott, Olivia West 
Best of Award for Societal Impact / Human Systems: Water Purification and Conveyance System, sponsored by Freshwater Project International 
Team members: Davies Alongo, Denise Beltran, Rachel Chaggaris, John Clary, Griffin Mulvaney, Acacia Ortiz
Best of Award for Professionalism: Prosthetic Arm Shooting Assistant, sponsored by Quality of Life Plus 
Team members: Jon Heier, Delaney Henry, Chanise Hoffmann, Kassidy Knutson, Harrison Koh, Averie Mansfield
Best of Award for Proof‐of‐Concept: Accessible Welding Table
The Spring 2019 Broader Impact Essay Contest winners were:
First place: Anne Coleman, "Running Through Chinese Villages"
Second place: Sean Smith, "The Dangers of Artificial Intelligence Based Facial Recognition"
Third place: Wyatt Ellis, "Toilet‐to‐Tap"