Grab your 10-pound rock. It's time for the 2022 M Climb
Colorado School of Mines to welcome largest incoming class in university history with its traditional climb up Mount Zion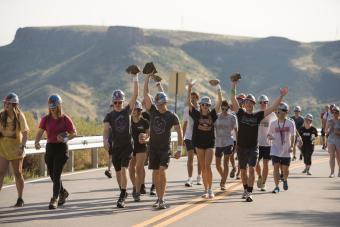 Colorado School of Mines will celebrate its annual M Climb this week as it welcomes its largest incoming class in university history.
New Orediggers will climb Mount Zion in Golden together, carrying with them 10-pound rocks from their hometowns. Upon reaching the top, students will place their rocks on the mountainside emblem in the shape of an M, visible throughout Golden and beyond.
The 2022 M Climb is scheduled for the morning of Friday, Aug. 19. Fall classes begin Monday, Aug. 22.
Mines received about 11,500 applications for the 2022-23 academic year and will welcome 1,665 first-year and transfer students this fall.
New Mines students: By the numbers, 2022-23 edition
1,665                         New first-year and transfer students
31.4                            percent women
26.6                            percent underrepresented domestic ethnic or racial groups
16.6                            percent first-generation college students
2.2                              percent international students
3.80 to 4.0                  middle 50% high school GPA (on an unweighted 4.0 scale)
1350 to 1490              middle 50% SAT composite score
49                               states and U.S. territories represented
18                               countries represented
Top 3 U.S. states outside Colorado: Texas, California, Washington
Top 3 countries outside U.S.: Saudi Arabia, South Korea, and Mexico
M Climb logistics
Timing
The M Climb will kick off around 7:30 a.m. Friday, Aug. 19 on the Intramural Fields (1651 Elm St., Golden). Students will depart in two waves.
Route
Students will walk from the IM Fields to 19th Street, cross over U.S. 6 and then climb up Lookout Mountain Road to the M on Mount Zion. After the climb, students will walk back to campus for a cookout and additional Fall Kickoff activities.
Note on Access
During the M Climb, Lookout Mountain Road will be closed to the public above the arches until 1 p.m. Friday.