Golden Endowed Scholarship Golf Tournament chairman an "ace" of a fundraiser
Paul Pastore '89 first got involved in the annual event as a player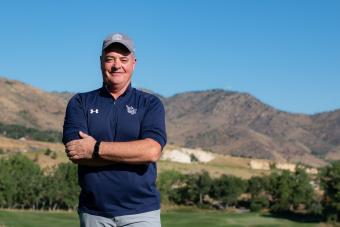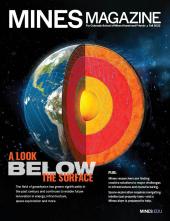 By Ashley Piccone, Special to Mines Magazine
Every spring, more than one hundred people gather in Golden, Colorado, for a round of golf. When they arrive, they check in, grab a breakfast burrito and head out onto the links. On courses in Houston and Oklahoma City, a similar scenario plays out. 
Each of these golfers, who are Mines alumni or from sponsoring companies, plays to support Mines and its students. The annual Mines Alumni Golf Tournament began in Golden 38 years ago and spread to Houston 16 years later. Originally organized as an alumni fundraiser, the event now contributes to an endowment that provides funds for Mines student scholarships. In 2021, 12 scholarships were awarded, totaling nearly $50,000. This year, the tournaments are on track to raise more than $90,000.
As the golfers play out their holes, they socialize with volunteers running the tournament, like Paul Pastore '89. Pastore has been the Golden Endowed Scholarship Golf Committee chairman for the last four years, first becoming involved in the event as a player. 
"When the committee gets together to plan this, it's just fun. We have great camaraderie, we have a few laughs, we talk about how we want to make a difference," Pastore said. "It's really nice with a bunch of people I'd call friends coming together. We have many, many great volunteers and Mines Foundation employees that make it successful. And we're always looking to add more."
Pastore began volunteering for the fundraiser because of a strong belief in giving back to Mines, an institution he says he was privileged to attend. 
"Mines has an excellent tradition of sending strong, capable engineers out into the workforce. I try to uphold that tradition," he said. "It has always been a special place to me, and I am proud to help new students become part of the Mines community."
But what really sealed the deal for Pastore was speaking with the scholarship recipients and learning about the tournaments' impact firsthand. 
"When I met with a 2021 scholarship recipient over lunch, he communicated that he just simply wanted to thank everybody who has participated in the tournaments, who contributed to making his dreams come true," he said. "Hearing that put it all in perspective for me, you know? You just need to make a difference in whatever you do."
At the end of the Golden tournament, after the golfing wraps up, the participants gather for lunch and are handed a coin that was made at the Mines foundry. Throughout the year, Pastore, other volunteers, and players ask each other where they keep their coins. The simple tradition simultaneously reminds them of the fun they had and the people they've helped—not to mention how they can improve their swings for the next year.