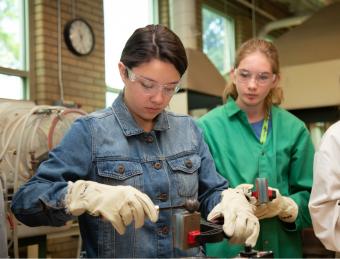 Full STEM Ahead, a three-day summer camp giving Denver area middle school girls opportunities to try hands-on activities in science, technology, engineering and mathematics, will be held at Colorado School of Mines this week from July 13-15. Nexus Controls, a Baker Hughes business and Colorado-based company, is co-sponsoring the camp with Mines.
Over the three-day STEM camp, around 20 students entering eighth grade from D'Evelyn Junior/Senior High School and Alameda International Junior/Senior High School will participate in a large array of STEM activities. Those activities range from programming a robot named Sparki to pouring metal in the Mines foundry to practicing suture techniques on a banana.
The camp aims to encourage girls to consider careers in STEM fields where women have been historically underrepresented.
"We are facing new technical challenges at Nexus Controls every day, and a diverse pool of ideas helps drive the innovation that supports business growth," said Carly Blaes, Nexus Controls Lead Controls Engineer and a Mines alumna. "Accessing a greater number of female applicants for our technical positions is critical to fueling this growth. We want to invest in the future development of young women to build this talent pipeline and strengthen the local STEM community."  
Both the camp's hands-on activities and the opportunities to get to know and interact with the camp staff and presenters from Mines and Nexus Controls are valuable in piquing students' interest in STEM, said Jessica Jackson, research assistant professor in chemistry at Mines.
"Participants will have the chance to interact with women STEM scientists and engineers, which is not always accessible at that age," Jackson said. "Exposing them to STEM now allows that creativity to blossom later in life. If they have an interest, they should pursue it, and gender should not be a barrier."
Once camp is over, participants will be encouraged to continue to stay connected with the Full STEM Ahead initiative. Throughout the school year, Nexus Controls leads a program called Full STEM, Full Year. Past camp participants are also invited to attend additional sessions held in local schools, where they will get to work with Nexus Controls volunteers, learn more about STEM and try more hands-on activities. All girls who have attended camp are also invited back to the Mines campus each year for Alumni Day, where the girls get to participate in a full day of camp, tailored to their age.
For more information about Full STEM Ahead, visit the camp website.