Fulbright Scholar researching biosynthesis of psilocybin in 'magic mushrooms'
Jesse Hudspeth, a PhD student in chemistry, is spending a year in Austria studying proteins in certain mushrooms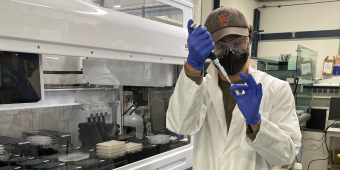 As part of his Professional Skills for Chemical Scientists class at Colorado School of Mines, graduate student Jesse Hudspeth was tasked with creating a mock Fulbright Scholarship application.
He had long been interested in researching the biosynthesis of psilocybin from so-called psychedelic mushrooms and how it could be used for therapeutic purposes, so he created his Fulbright application around the topic.
When his PhD advisor Christine Morrison, assistant professor of chemistry, later suggested he actually apply for a Fulbright, he realized that because of that one assignment, he already had his materials ready.
"Besides a few updates, my application was ready to go," Hudspeth said. "I had been interested in this topic for a while, and with Dr. Morrison's encouragement, I realized it was something I could actually pursue."
His application was a winning one, and since last fall, Hudspeth has been working alongside researchers at Medizinische Universität Innsbruck in Austria. Hudspeth's work focuses on characterizing the proteins in mushrooms that synthesize psilocybin, the compound naturally present in hundreds of fungi that when ingested can produce psychoactive effects in humans. His Fulbright runs until the end of June 2023.
The timing of Hudspeth's research couldn't be better. Last November, Colorado voters approved a proposition that decriminalizes possession of psilocybin-containing mushrooms for people 21 and older. The initiative will take effect in 2024, the same year Hudspeth hopes to be finishing his PhD at Mines.
"Colorado is taking a step forward in looking at drug policy a little bit differently, in light of the new medical research of these substances, including psilocybin," Hudspeth said. "Colorado is leading the way."
Hudspeth's Fulbright research isn't related to the psychological or psychiatric effects of psilocybin, but rather how it is made in nature so it can be recreated similarly in a lab. He explained that his research is intended to inform how the proteins make psilocybin and how we can mutate the proteins to make variations of psilocybin. This can improve the production of psilocybin for use in therapeutic settings and explore psilocybin analogues that may exhibit different therapeutic responses.
"If we understand how the proteins work, then we can create a good amount of psilocybin that hasn't been produced with hazardous chemicals, which makes its production safer and more sustainable," he said. "We're learning how the proteins can be kept happy in order to create the product in the most abundant amounts possible."
Hudspeth's PhD dissertation will be on the topic of drug discovery and development. A few months into his Fulbright program, he said the research he started at Mines was crucial to his current research on this topic.
"The work I did at Mines was similar in that it was focused on the structure of proteins in bacteria, and I'm using the same methods to look at proteins in mushrooms here," Hudspeth said. "I couldn't be doing what I'm doing now in Austria without the support of Mines, Professor Morrison and the Mines Scholarship Office. They've been crucial in helping me even have this opportunity. It's been incredible, like a dream come true."