Fritz Prehn: "Since graduating from Mines with my PhD, I was fortunate to complete my post-doc in Singapore with Nanyang Technological University."
Wausau, WI
Materials Engineering
Alum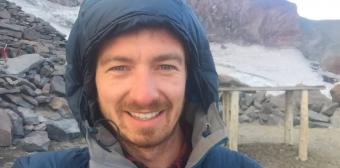 Why did you choose to come to Mines? What have you enjoyed most about being here?
Education and experience with materials science. I loved being so close to the mountains. Outdoor adventures are an important part of my enjoyment and well-being.
Tell us about something you're working on right now that you find exciting, fulfilling or challenging.
Since graduating from mines with my PhD, I have been fortunate to complete my post-doc in Singapore, where I worked with Nanyang Technological University to form a startup company printing perovskite solar cells.
Have you done an internship or co-op or been in a professional job while at Mines? Tell us who you worked for and what you were doing. What stands out?
While at mines I was a full-time teaching assistant in the chemistry labs!
What communities, groups or organizations—on- and off-campus—are important to you and why?
On campus, I was involved with the Mines backcountry and outdoor club because I valued being outside and enjoying what Colorado had to offer.
What are your plans for the future? What's your dream job?
I am fortunate to have recently returned home from Singapore after two years of post-doc and startup work and have accepted a position at a chemical company designing new resins. I look forward to growing with the company and becoming a chief scientist, becoming an expert in the field that the industry can depend on for new material and chemical innovations.
What would you tell someone interested in joining your academic program or Mines in general?
Don't forget to work hard and focus on the tasks at hand. Colorado is a beautiful state that has a lot to offer but don't let it distract you from what you have come here to do. The mountains will always be there!
What's your favorite thing to do outside of class and coursework? How do you unwind, manage stress, find fulfillment, etc.?
I managed to keep myself busy adventuring all over the state. I enjoy rock climbing, mountain biking, hiking, skiing, rafting, camping, tubing (down clear creek), touring breweries, fishing and hunting.
Tell us something about you that most people would be surprised to learn.
While living in Golden throughout my four-year PhD, I was fortunate to climb 48 of the 58 14,000 foot mountains. Since graduating I have returned to complete four more and have ambitions to complete all of the fourteeners.