First-year students put innovation skills to the test – before classes begin
Hundreds of new Mines students tackled community transportation issues in Innov8x Hearts & Gears challenge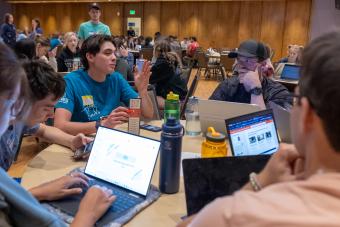 Before the fall semester began – and in some cases just days after moving into their residence hall rooms on campus – hundreds of first-year students filled an auditorium at Colorado School of Mines for their first assignment: propose solutions for local government and transit organizations to tackle important mobility issues in the Golden area.
It was Aug. 16 and classes wouldn't start for another five days, but the participating students were eager to put their innovation skills to the test, for the first time as Mines students.
Sponsored by the McNeil Center for Entrepreneurship and Innovation, the Hearts and Gears: Innovating Mobility Challenge offered first-year students an early experience with the entrepreneurship and innovation landscape at Mines: collaborative, forward-thinking and human centered.
"This is a great way to get students engaged in innovation and the Innov8x program from the beginning of their time at Mines," said Sid Saleh, director of the McNeil Center for Entrepreneurship and Innovation. "If we start to engage with them as first-year students, they're motivated to take advantage of the options Mines has to offer and then, four years from now, innovating will be a natural skill. We want them to feel ownership of new initiatives, use their creativity and get involved."
The Challenge
Representatives from four local government and transit organizations presented the students in attendance with challenges unique to each organization's constituents.
Here's what the students were asked to help solve:
Regional Transportation District (RTD): Develop a strategy for marketing RTD's Zero Fare for Youth initiative, which offers no-cost rides to anyone age 19 and under, to increase family and young adult interest in transit and help young people build transit into their commuting habits.
City of Golden: Improve food access in South Golden, specifically in the Golden Terrace and Golden Ridge communities, where residents have limited access to healthy and culturally relevant food options.
Colorado Department of Transportation (CDOT): With a $5 million budget, provide ideas for applying media, engineering roadway design, education and outreach, policy and laws and research and technology in order to address the growing number of injuries and fatalities on Colorado highways.
Mines Parking, Fleet and Transportation Services: Provide a top five list, based on experience as students, of what application functions would be most helpful and valuable to students using an app for the Ore Cart, the new shuttle connecting the Mines campus with Golden and RTD light rail stations.
The Solutions
Teaming up in small organically-formed groups, the students brainstormed solutions and put together presentations on their ideas. Two proposals for each challenge were voted on within each group and presented to the entire pool of participants, with judges deciding a final winner for each challenge.
"Everyone on the team was able to combine their expertise and skills to come up with our idea," said Charlotte Landry, who was on winning team RTD Rocks. "I'm an artist, so I designed the poster, while other team members had strong engineering skills and they brought that to the project. All of our skills came together, plus we were able to learn new skills from each other."
The winners were:
RTD Rocks, which proposed a marketing plan consisting of messaging through billboards, social media and in-person meet and greets with RTD ambassadors. They presented safety tip signs to display on buses and trains and a regular transit officer patrol schedule, so riders feel safe.






 

Community Farming in South Golden, which presented a comprehensive plan to locate community farms at schools in the community and updating transit systems for increased access. Their plan would create a self-sustaining system that utilizes farmer's markets and community gardens to provide food to the community.




 

Enforcing Highway Safety, which proposed cameras at major highway exits to capture what traffic patterns may be leading to crashes and a mandatory 20-hour minimum of driving hours before receiving a license. They proposed spending much of the budget on cameras to monitor highways and on education and outreach to help drivers improve.





 

The Modern Ore Cart App, which proposed using Google Maps API to show riders the closest pick-up sites, alerts for delays and cancellations, a check-in system that utilizes the blue safety lights around campus, integration with Mines platforms to communicate events and news, as well as integration with the M app.
Beyond being a fun exercise for the students, the challenge was also an outreach opportunity for the community partners on hand.
"RTD works to build connections with local partners, and this is an excellent opportunity to build on our relationship with Mines," said Brandon Figliolino, manager of community engagement at RTD. "And along with getting to hear the students' ideas, I'm hoping this encourages them to use transit more in their daily lives."